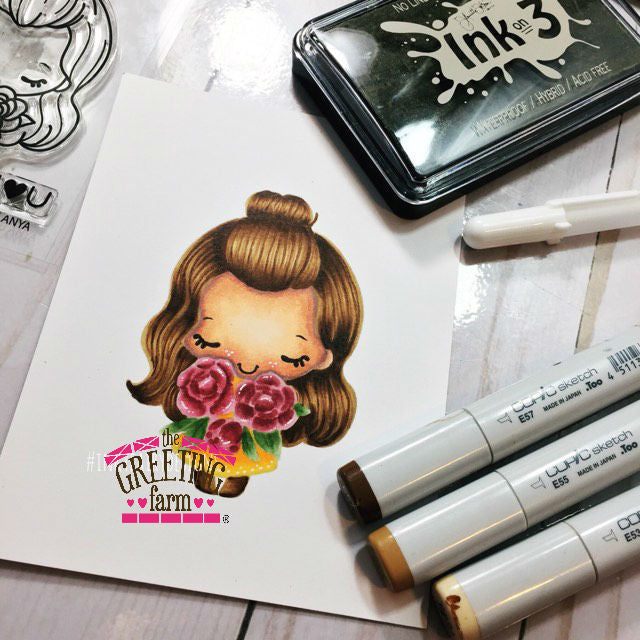 Happy day everyone! It's Joni here with a fun TMT that I hope you'll enjoy as much as I do. I asked some sweet friends if I could borrow their talent for today's post, because they are queens of the No Line technique. (I have so many crafting buddies who rock this style, but unfortunately this post has its limits!) 
If you are new to crafting, the No Line Technique is really fun. First off, you stamp an image in a lighter border color instead of black, then fill it in with your medium of choice. It's intimidating at first, but the end result is worth it! 

I asked the fabulous Carisa Zglobicki if I could show off her beautiful sample using I Heart U Anya:
I want that hair. And her complexion. And those flowers. ;) teehee!  She always does the prettiest combos with her TGF images. <3 Thanks Carisa!

Here is a lovely process visual from Jessie Banks, using one of the images from the 10 Year Kit (retired):
Oooh look how cuuuute she turned out! Look at those eyes! Jessie's coloring is always so gorgeous and the blues are so sweet together. ;) Thanks Jessie! 
And finally, here's a couple of mine, using Decora Anya and Brew It Anya:
We hope you try out this technique, it takes a bit of practice but once you get the hang of it, it's so much fun!
Thank you so much to my Farm sisters for their samples today, be sure to let us know if you attempt this fun stamping method or if you have any questions. Hugs and happy day to you!
xoxoxox
Joni