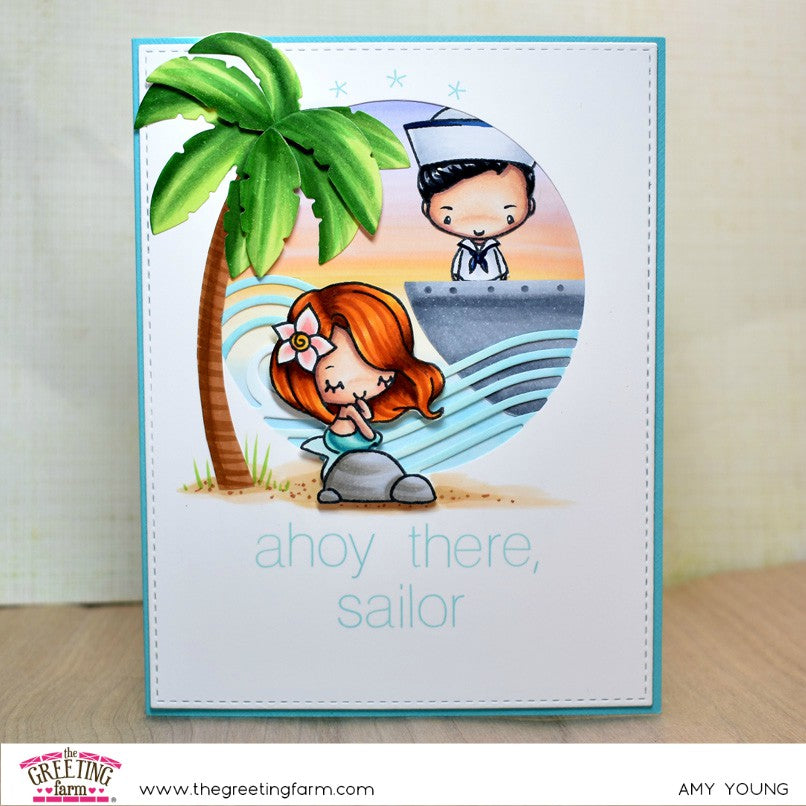 Hello friends of the Farm!
Amy here with my DT post and when I'm deciding which stamps to ink up for these posts I generally try to use them as an opportunity to get as yet un-inked stamps onto a card. So as I was browsing through the store to see if there where any stamps I have in my collection not yet inked, the American Heroes set caught my eye. But because my creative mind is still stuck firmly in mermaid mode I couldn't stop myself from taking this in a very non-military direction. So I also grabbed this coy cutie from the Little Mermaids set and created a cheeky little scene between her and the sailor from the American Heroes set. By using a rolling wave die cut on the card front I was able to create a kind of window to house the sailor and his ship while putting some distance between these two flirty sea goers. I borrowed the little stone stamp from the Make a Splash set to give the mermaid something to sit on and added a die cut palm tree to complete the scene. I also knew just what I wanted the sentiment to say but didn't have a stamp in my collection that worked, so I went back into my crafty stash from my scrapbooking days and found the perfect alphabet rub-ons to create it myself. I gotta say, I was pleasantly surprised that they still worked, LOL!     

Well, thanks so much for dropping by today!