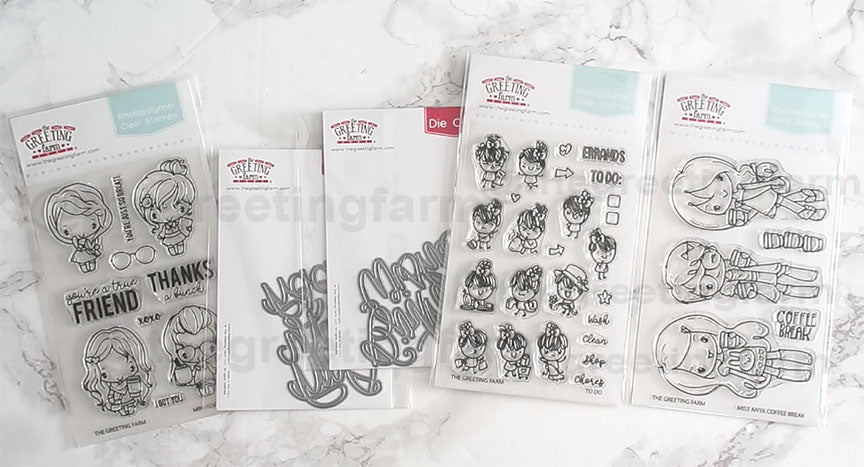 August 2019 Stamp in Review and WINNERS of the Planner Sticker Giveaway!
Happy Monday everyone!  Welcome back!  We've got a quick video showcasing our new August stamps!  This release we have a Miss Anya set, Birthday dies, To Do stamp set perfect for planners and the widely popular Mini Remix set called Mini Remix Friend...we KNOW you love them because you cleared us all out!  Have no fear, more are on order so make sure to sign up for our newsletter!
WINNERS FOR THE PLANNER STICKERS OF YOUR CHOICE ARE SHARON GULIKSON and BRIAN PORTERAJ!  Please email Marie at thegreetingfarm@gmail.com with subject Planner Sticker Winner!  You can each pick two sticker set of your choice!  Congratulations!
✩ ✩ ✩ ✩ ✩ ✩ ✩ ✩ ✩ ✩ ✩ ✩
Stamps in Video:
Mini Remix Friend
Happy Birthday word die
Birthday Wishes word die
To Do
Miss Anya Coffee Break

✩ ✩ ✩ ✩ ✩ ✩ ✩ ✩ ✩ ✩ ✩ ✩
The Greeting Farm
Facebook
Instagram
YouTube
✩ ✩ ✩ ✩ ✩ ✩ ✩ ✩ ✩ ✩ ✩ ✩

Music:  
Positive Happy by PeriTune https://soundcloud.com/sei_peridot Creative Commons — Attribution 3.0 Unported — CC BY 3.0 http://creativecommons.org/licenses/b... Music promoted by Audio Library https://youtu.be/TutcA4JPa7Q