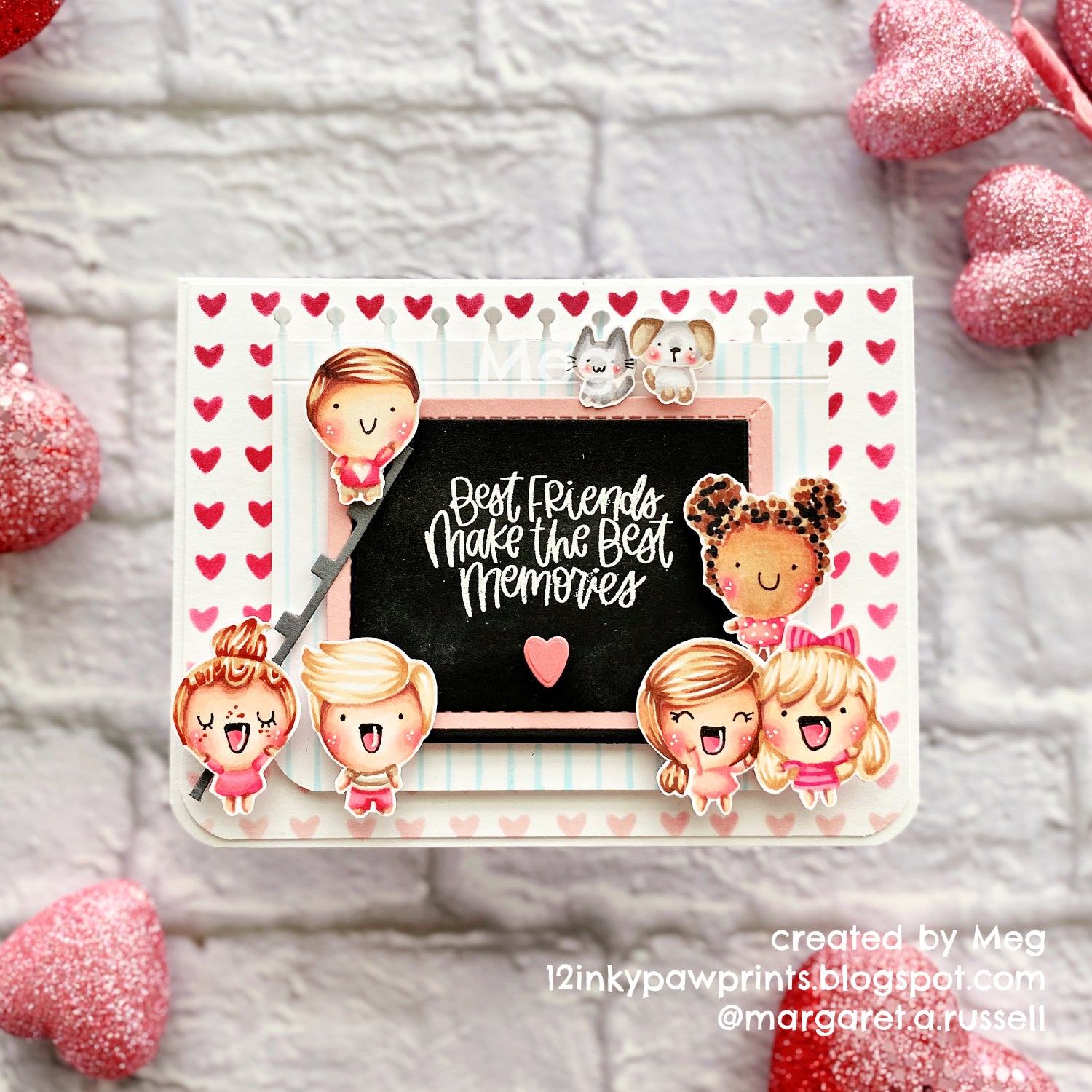 Best Friends Make The Best Memories with GDT Meg Russell!
Hi Farmers! It's Meg here and I am back for my final post as guest designer this month. It's been my pleasure and honor to share fun projects with you this month, and am so thankful to The Greeting Farm for this opportunity!

I couldn't let this month pass without sharing with you a project made with one of my all-time favorite stamp sets: Minkie Friends. Yep, I love these little ones. They really are the perfect gang, and there is SO much you can do with them! Valentines Day is right around the corner, and these classroom cuties decided it was important to leave you all this month with a feeling of love and appreciation.

In my project, I've used all the characters from the stamp set and their pets, and one of the beautiful sentiments. Since I would be coloring 6 unique people in this project, I wanted to create a variety of complexions. So I got out all my markers that I thought were good skin colors and could work together, and divided them into three piles - dark, medium, and light. I decided to not "think" as I colored, and just started grabbing colors and putting them together. I loved the result so much I used the same technique for the 6 different hair combos.

I wanted to give this project a real classroom feel so I decided to keep the chalkboard background "messy". When I embossed the sentiment, I used a chalk buddy to wipe down the cardstock prior, so that the embossing powder would only stick to the image. And...I just left the chalk mess as it was. Looks like these kiddos had a GREAT time wishing you a Happy Valentines Day. I decided they didn't need any more sparkle - their cheerful smiling faces say it all!
If you'd like to find out more details about this project, my blog is
Twelve Inky Pawprints
, and I'm on Instagram
here
. I loved being here with you this month, thanks for reading! Have a happy day!
Meg