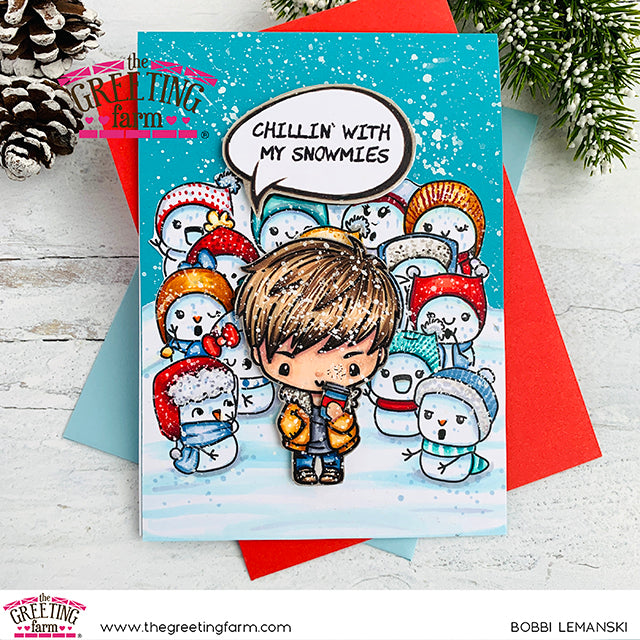 Chillin' With My Snowmies
Wut Up Snowmies?! It's Bobbi Lemanski here from Bobbi Hart Design. I'm sharing a fun and silly card for the Winter holidays. 
Here's Ian from The Greeting Farm Cute Couple stamp set. He's just hangin' out with his snowmies from the Fa La La stamp set. Ian decided he needed a cup of hot cocoa, but his snowmies did not like that idea... "Hot" is not in their vocab for obvious reasons. :) Now for some card details...
This 5" X 7" card starts out with a light teal background. On a separate 5" X 7" piece of white cardstock, I stamped and masked the snowmen to create the gang of snow peeps. Simple masking makes this easy. Just remember to stamp from front-to-back!
I also stamped Ian on another piece of white cardstock colored and cut him out. I attached him in front of the snowmen group using dimensional foam tabs so that he would physically stand out on the page. I also drew a hot cocoa to-go cup and hand for Ian, cut it out and added it to his left hand.
I wanted a custom phrase for my card so I printed it out on 80lb cardstock and added a speech bubble around it. The bubble was cut out and adhered using dimensional foam tabs to the card front.  The snowmen were cut out around the top and attached to the teal background. I splattered the entire front with white Dr. Marten's white paint for falling snow. To me, the snow brings this scene to life!
Notice the loud-mouth snowman in a teal stocking cap with a red scarf, just to the left of Ian? He's got something to say inside...
I created another custom phrase and speech bubble for this melting snowman inside. I also stamped the phrase, "warm wishes" on the bottom from the stamp set, Warm Wishes. I guess you could say - don't let your friends drink! This card fits in an A7 envelope for mailing.
Thanks for stopping by today. If you want to see more ideas and inspiration from me, subscribe to my blog, BobbiHartDesign.com. I'll send you updates on new posts! You can also find me on Instagram as @BobbiHartDesign and on Facebook as BobbiHartDesign.
Bobbi Hartmann Lemanski, Bobbi Hart♥ Design, Adding h♥art into every design