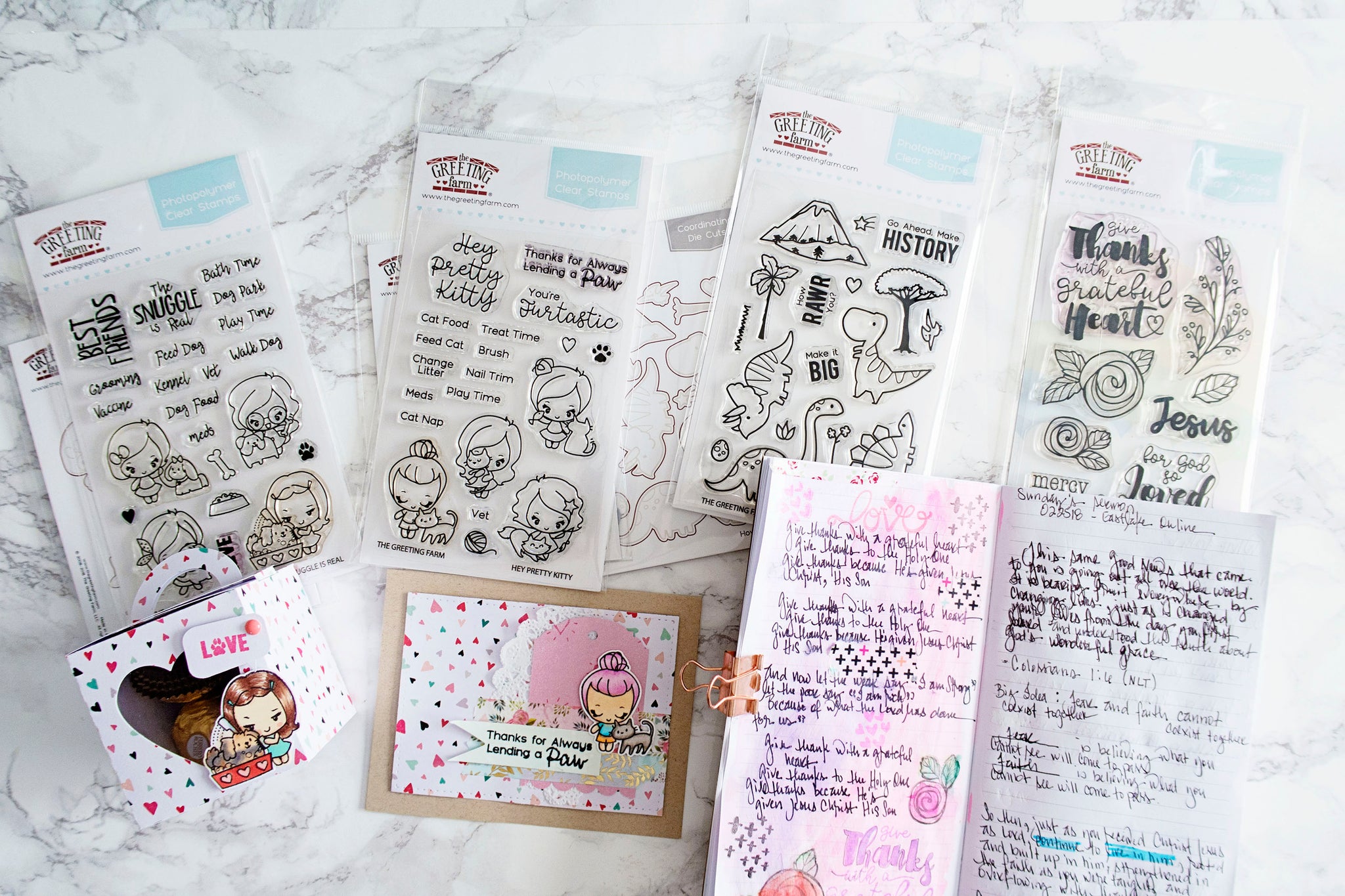 Feburary's First Look Video and Faith Stamp Winner
Hello Friends!  Welcome back to another First Look video!  Today I'm sharing February's release.  For you animal lovers, these sets are perfect for you!  Also, I share the new Faith stamp that was released at the end of the month.  And like I said in the video, this is one of my most favorite Faith stamps yet!  It has my favorite scripture - For God so loved the world - John 3:16!!!!  Watch down below or on our YouTube Channel.
And before I go...The winner from last week's Faith giveaway is: 
Mary Holshouser
Congratulations!!!  Please emal info@thegreetingfarm.com for your prize.  Please use:  "Faith Stamp Set Winner" in your subject line.  You have two weeks to claim your prize!
✩ ✩ ✩ ✩ ✩ ✩ ✩ ✩ ✩ ✩ ✩ ✩
Stamps shown in the video:
✩ ✩ ✩ ✩ ✩ ✩ ✩ ✩ ✩ ✩ ✩ ✩
Where you can get ideas on how to use these stamps:
https://thegreetingfarm.com/blogs/news/a-pink-dinosaur
https://thegreetingfarm.com/blogs/news/faith-new-release-grateful-heart
https://thegreetingfarm.com/blogs/news/stamp-feature-how-rawr-you
https://thegreetingfarm.com/blogs/news/stamp-feature-hey-pretty-kitty
https://thegreetingfarm.com/blogs/news/stamp-feature-the-snuggle-is-real
https://thegreetingfarm.com/blogs/news/february-release-preview-day-3-how-rawr-you
https://thegreetingfarm.com/blogs/news/february-release-preview-day-2-pretty-kitty
https://thegreetingfarm.com/blogs/news/february-release-preview-day-1-snuggle-is-real
✩ ✩ ✩ ✩ ✩ ✩ ✩ ✩ ✩ ✩ ✩ ✩
The Greeting Farm
Facebook
Instagram
YouTube
✩ ✩ ✩ ✩ ✩ ✩ ✩ ✩ ✩ ✩ ✩ ✩

Music: Spring in My Step by Silent Partner