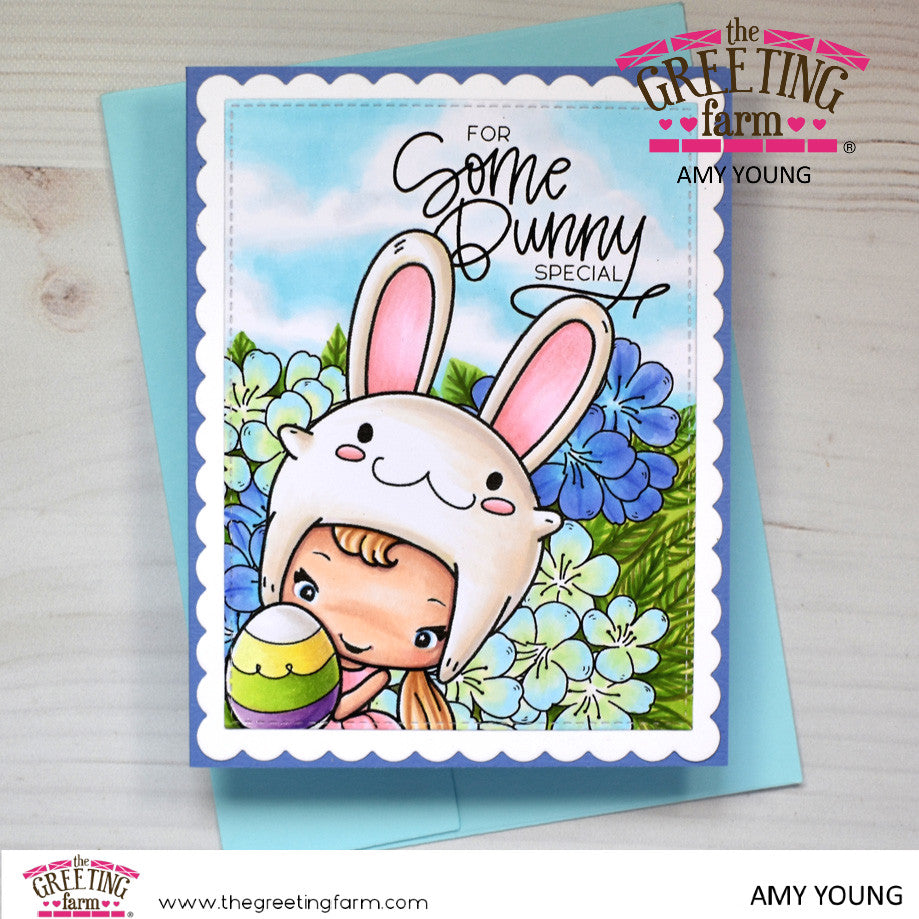 Hello fellow Farmers!
Amy here, and now that we are officially enjoying the Spring season I'm in the mood to create cute Easter cards. Luckily for us card makers, TGF has released many adorable Easter images over the years, as rubber stamps, clear stamps and digital stamps. For my card today I decided to go with digital stamps so that I could take advantage of their re-sizing capabilities.

In Word, I brought up sweet little Easter Bean and enlarged her quite a bit so that even when partially cropped in the corner of the card she still fills a significant portion of the card front. Behind her I layered in some flowers from the Fairyland digital set so it would look like she is standing in front of a big flowering bush. Finally, I added one of the great sentiments from the Easter Sayings digital set in the upper right corner to balance Easter Bean in the opposite corner. Isn't that sentiment perfect with her fun bunny beanie?  :)

Once I printed out this simple scene and die cut it to size, it was time to color. I went with a traditional white and pink Easter Bunny cap and it's important to keep in mind when coloring "white" with Copic markers that it doesn't matter which light colors you use to shade it as much as it does to leave some of the white card stock showing so your end result looks light and bright. Behind Easter Bean I colored the flowers into blue hydrangeas and even free handed in some green leaves to fill out the space. A blue sky with fluffy white clouds completes the simple scene with big impact.  

Stay crafty my friends!  :)