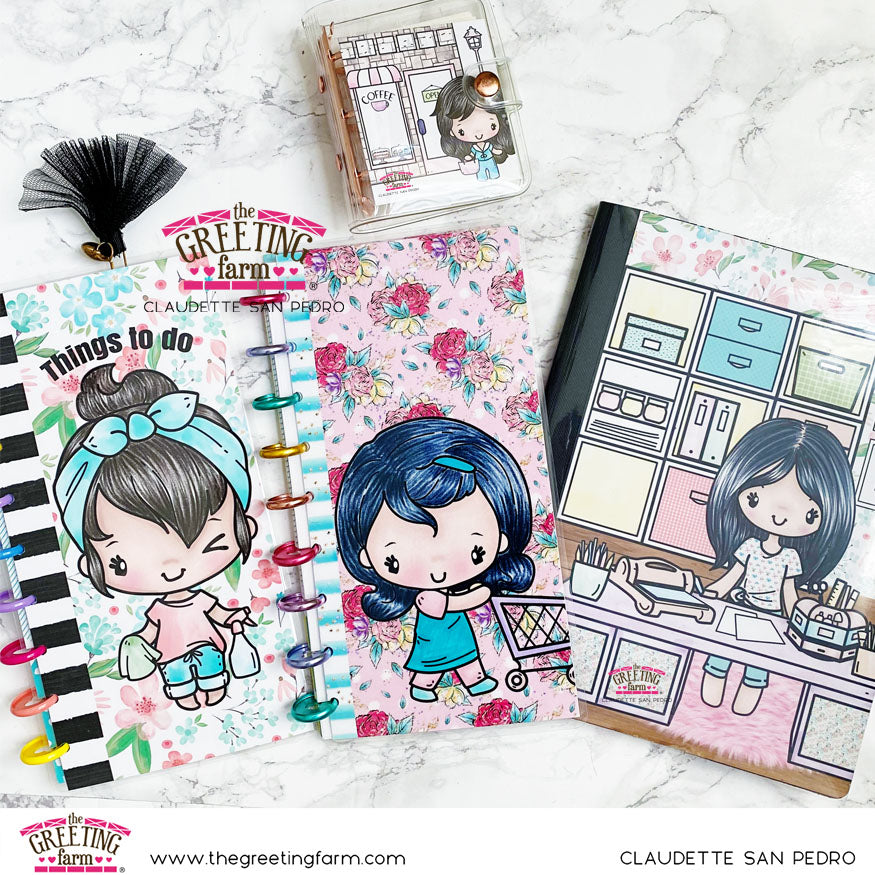 Happy Monday! Can you believe it'll be September in two days?!?!?!? Soon it'll be Halloween, then Thanksgiving, and then Christmas!!😱 Are you ready for the holidays? Usually, I'd like to say it's too early, but with the days going by so fast, the holidays will be here quickly. I have to say, I am excited since last year, and this year hasn't been the greatest. And we could use some holiday cheer.

Anyhow, today, I am sharing my notebook covers. I've gotten quite a few DM's asking if I could do a tutorial on how I created them. While I don't have the video up and ready, I thought I'd share how they turned out, and next week's video will be the tutorial on how I created them. Fun, easy, and a few cool tips to help you get those creative juices flowing!

This is the notebook (Skinny Classic Happy Planner)  that I created last year. I've gotten a few requests for a tutorial on this, and as I said earlier, the tutorial on how I made these notebooks will be available next week! If you're wondering why you can't find this stamp, it's because I altered it, and maybe one day I'll do a tutorial on how I did that, but it's a bit advance for beginners. We want to focus on creating something similar to this, and once you get the hang, we'll move onto it another day.  ☺️
This is the cutie I will do the tutorial on, and I'm excited for you to see it!
This is my favorite one so far because this houses all the stamps, video, anniversary ideas. I'm happy I finally put this together because the system I had wasn't working. Now we have a hard copy, and it is easily accessible. Also, I could draw some pictures/ideas and include photos of inspiration. I used a Composition book for this project.
Last but not least, this mini binder of about 4x4 is the perfect size to put into my purse! I write down all my to-buy items. I'm not a fan of pulling out my phone every few minutes and unlocking it to see what's next on my list. I rather have a hard copy, and so glad I was able to find these mini binders on Amazon.
I hope you're excited to see how I created these notebook covers (I'll demonstrate one). I'll see you back the following Monday! Have a safe and great week!
✩ ✩ ✩ ✩ ✩ ✩ ✩ ✩ ✩ ✩ ✩ ✩
Stamp used (all are digital stamps):
Grocer A 
EMT
Chore Day Anya Girl 1, Spray bottle and washrag
Miss Anya Dress Up
Build a Craftroom
Birthday Girls
Storefront