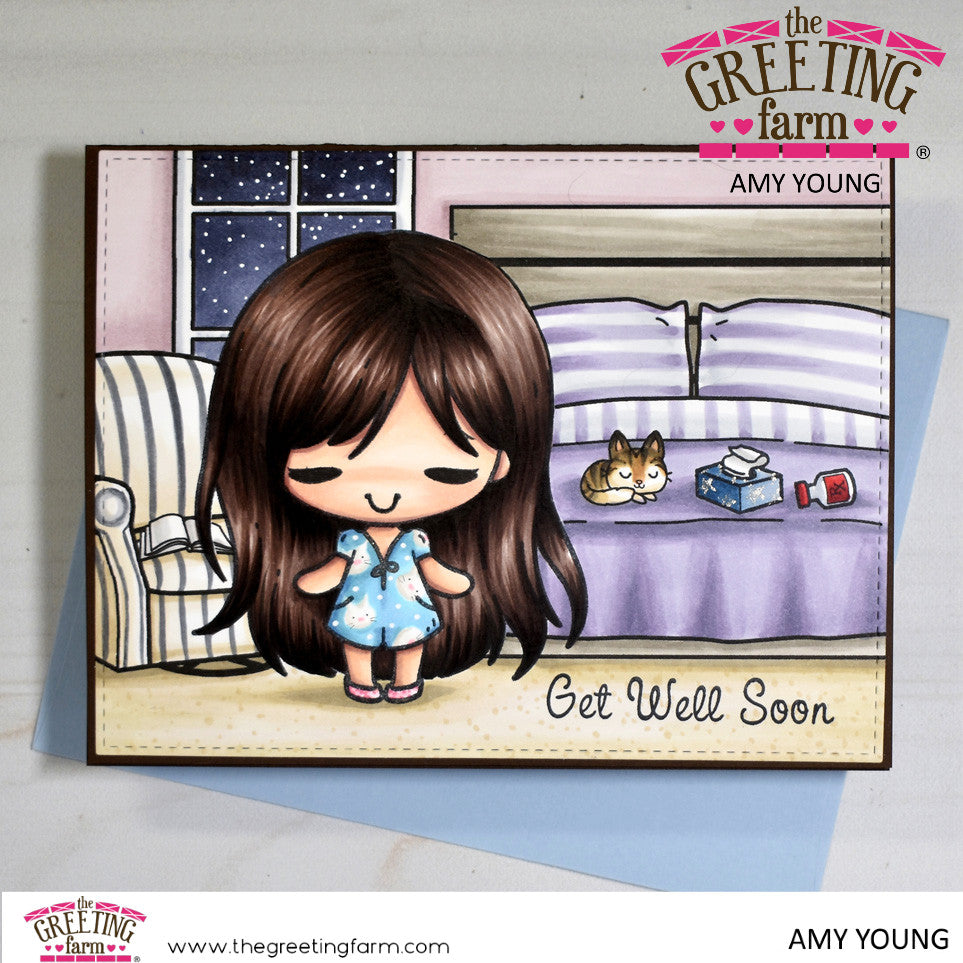 Hello fellow Farmers!
Amy here, with my first TGF blog post of 2023. When thinking about what kind of card to create for today my inspiration actually came from how many of my friends and family have been hit by the cold or flu viruses that were making their rounds through the holiday gatherings. Let's just say that my 'get well soon' stash of cards have been depleted. I'm also still working my way through the fabulous Anya Combo kit and this Anya looked to me like she could be wearing comfy jammies, making her perfect for this theme. I did use a baby wipe to remove the ink from the flower that is originally in her hair before stamping, then simply filled in the missing black outline using a Copic black multiliner pen before coloring.

Yet again I went to the digital stamps to create a background scene for our sick Anya. The big comfy bed, sleeping kitty and window are all part of the Build-a-Bedroom digi set while the chair is from the Build-a-Nursery set and the book comes with Book Ian. Once I had all of the furniture arranged in Microsoft Word, I slapped a mask on Anya and ran the card front through my printer. I still didn't have everything I wanted to really make this look like Anya has been sick so I grabbed the retired Get Well Soon clear set and stamped the tissue box and medicine bottle onto the bed with the kitty. Now I was happy with the background.

All that was left to do was get out the Copic markers and start coloring. I kept the color palette soft and muted so that the scene appears as soothing and relaxing as it can be. The little kitten even inspired me to add a cute kitty print to her jammies. If you ask me, it looks like Anya is on the mend... yeah!

Ok, thanks for popping in today. Stay safe and stay healthy out there.  :)