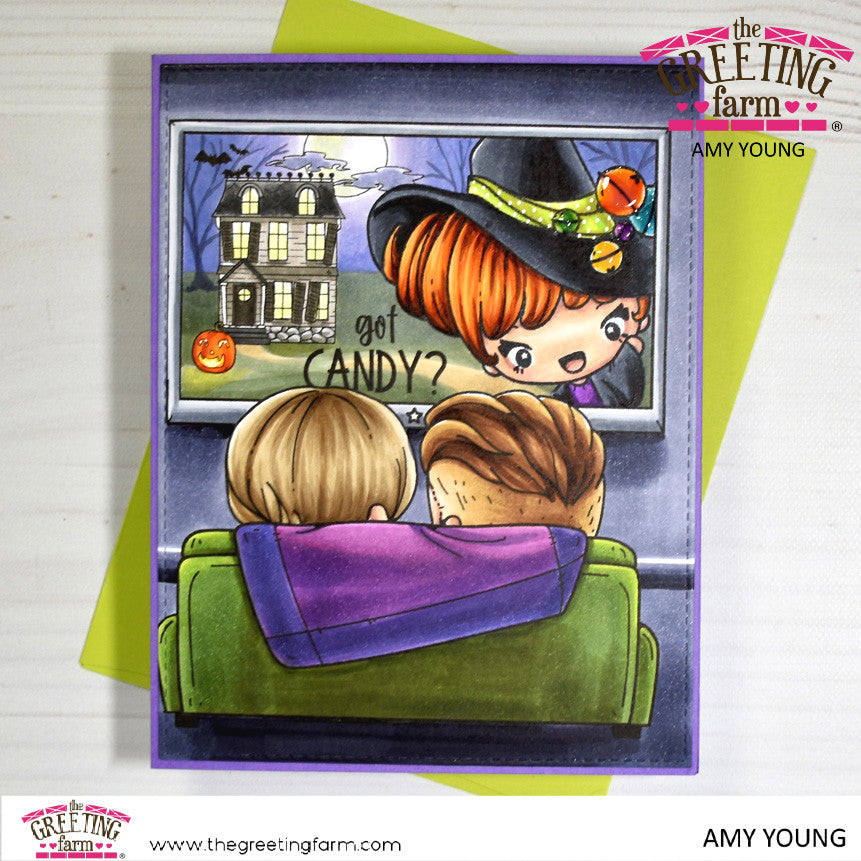 Hello fellow Farmers!
Amy here again with a new card mixing one of the little witchy Beans from the Hocus Pocus kit with various digital stamp sets from the TGF store. This is definitely a different take on a Halloween card but I got the idea a few nights ago when I settled in for an evening watching scary movies on the TV. I thought, how fun would it be to capture a cute couple doing the same thing on a card. So when I was ready to get crafty, I got onto my computer and started to make my idea come to life. First, I grabbed the Movie Night digital set with the large flat screen TV and the back of the sofa. I then arranged the Backs 1 couple into their seats before building the scene taking place on the screen in front of them. Because I knew that the witchy Bean would be popping into the scene on the right hand side of the TV, I built the spooky landscape over on the left. This consisted of the haunted house, moon, bats and jack o'lantern from the Halloween Nite digi set. The sentiment is from the Hallo Sentiments digi set and I chose it because it also reads like a tag line on a commercial. 

Once I had my digital scene printed out, I masked off the edges of the TV and stamped this excitable little witchy Bean into the empty space I had left on the right side... it was a perfect fit. And once the masks were removed the cropping made her totally look like part of the scene, the spooky cute spokesperson for this fun Halloween candy commercial that is interrupting date night, LOL! As always, I colored up the scene using Copic markers and made sure that witchy Bean was the brightest thing in the entire room so that our eyes are drawn right to her first. She is the star of the show after all.  ;)

Stay crafty my friends!