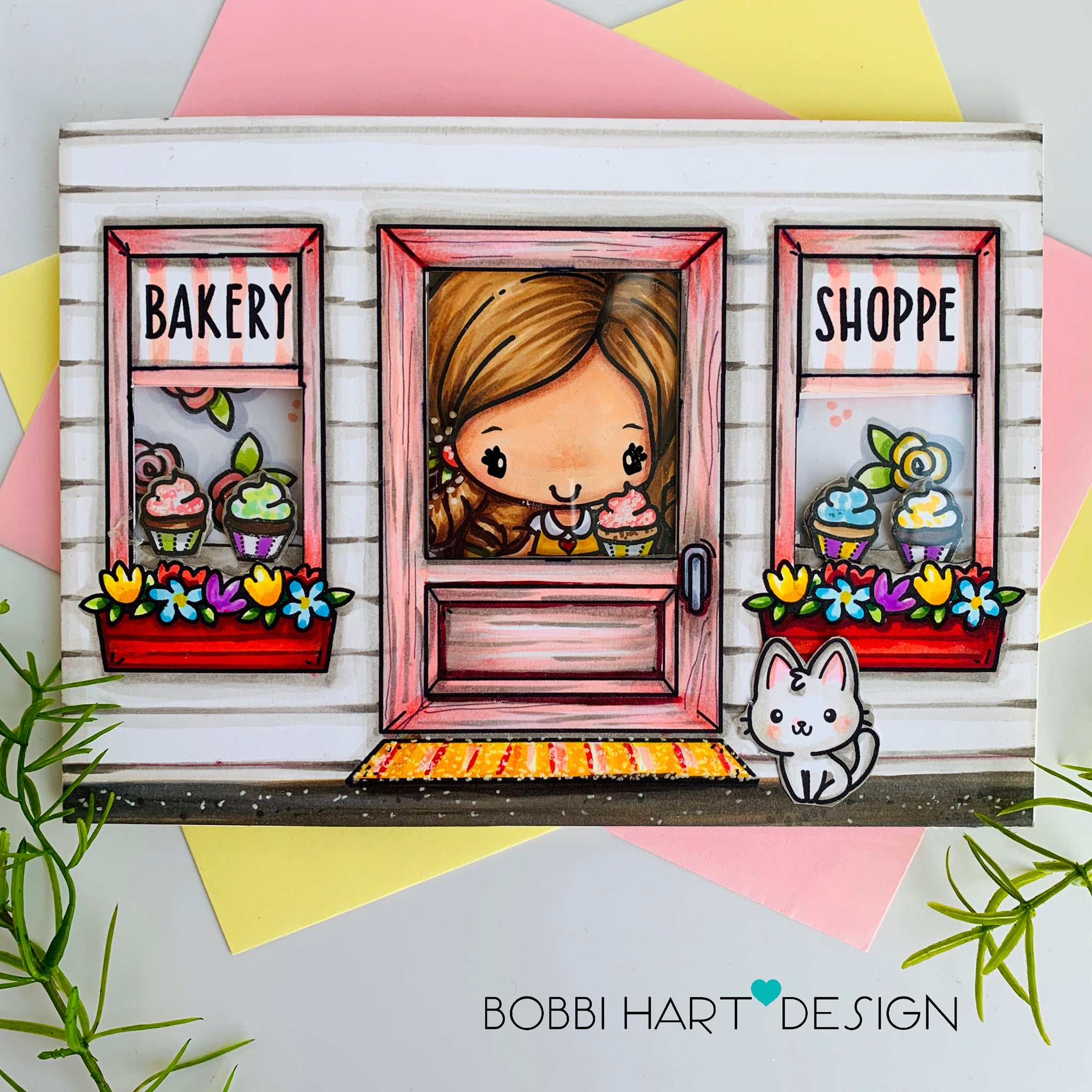 Guest Designer Bobbi Lemanski with a Bakery Shoppe Scene!
Hello Farm friends, this is Bobbi Lemanski here from BobbiHartDesign.com, guest designing this month for The Greeting Farm (TGF). I fell in love with the TGF characters and have been having so much fun designing with them! I'm sharing a card I made featuring some clear stamps and digitals for this bakery shoppe scene.
     To make this card, I stamped, colored and fussy cut the sweet girl from the clear stamp set, Cupcake Anya FB, both front and back images and adhered them together. Anya is serving up sweet cupcakes in her bakery today. 😊
To create the scene, I used elements from the Porch digi set including the door, windows, doormat and flower boxes. I added the kitty from the Hello From Home digi set. I set the scene up digitally on a 5" X 7" landscape card front and printed it out on Neenah 80lb cardstock to color. The door was widened to fit Anya's size. I cut out the windows using my paper trimmer.
  I printed the same scene again, this time flipping the door (so that the door handle would be on the left) and removed the flowers from the flower boxes. The windows were cut out of this panel, too. This will be the interior scene setting. Eighteen cupcakes from the clear set were stamped, colored and cut out and placed on the wooden display shelves, inside of the bakery. The cupcakes in the windows are double-sided. A sign was added to the wall as well as beadboard and the scene was colored.
 For the windows, Striped shades with printed words and clear acetate were layered between the card front and inside panel and adhered together to create glass and window coverings in the windows and door. When closed, you can see the wallpaper from the bakery's back wall show through in the windows.
 To create the back wall, I stamped and colored the rose from the Cupcake Anya FB stamp set to create wallpaper inside the bakery. I strategically added a faux logo sign, "Hello Cupcake" (from the same set) to the wall inside, right behind Anya. This provides a place to add a personal message inside the card, visible only after you open the card.
The back panel was backed with another piece of white cardstock to conceal the Copic coloring bleed from the roses. The layered card front and layered card back were attached together using a hidden hinge piece, sandwiched in between the layers on both sides to complete the card. I think this is a bakery I'd like to visit. Cupcakes, anyone?!
Thanks for visiting! Have a super sweet, "Cupcake Anya" kind of day! 
Bobbi, website: BobbiHartDesign.com