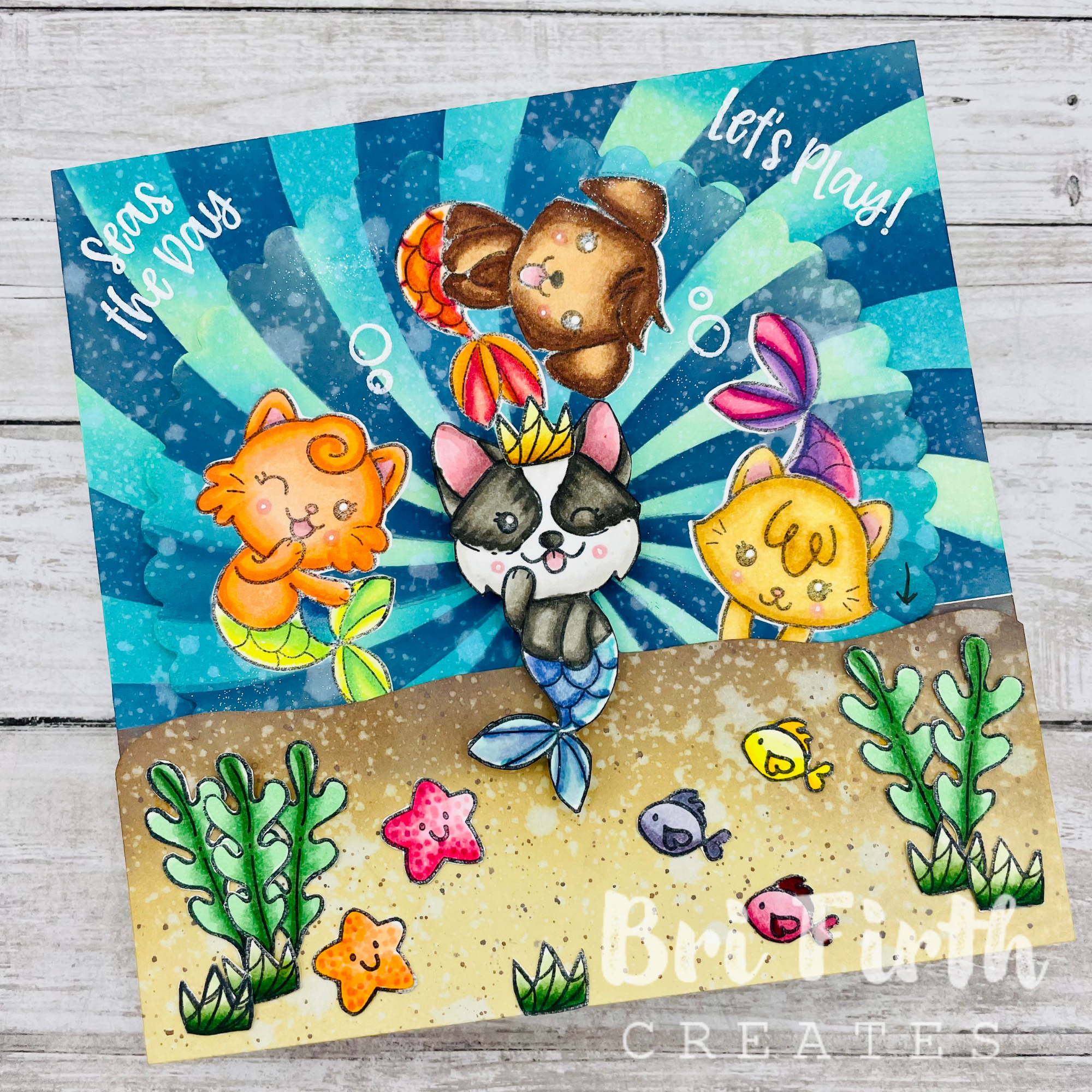 Guest Designer Bri Firth with swimming Furmaids!
Hi friends – Bri Firth here! I'm back with my second guest designer post for the month of July. This project features fin-tastic images and sentiments from the Furmaids set. Keep reading below for more details on how I created this swimmingly interactive card. 
 This 5.5" square card has an interactive component where the furmaids can swim around the center dog furmaid. To create the interactive-spinner mechanism, I die cut a large, scalloped circle and stamped four of the furmaids, with Memento Tuxedo Black ink, spaced evenly along the perimeter of the circle. The spinner mechanism was created with the card base, the scalloped circle, a paper piercer, and a brad.
 I colored all the images with my Copic markers. To color the furmaids, I used T0's to color the black and white dog, E30's to color the brown dog, W0's to color the white kitty, YR10's to color the orange kitty, and YR20's to color the yellow kitty. I heat embossed white bubbles in between the stamped furmaid images. To protect the colored images from ink blending, I used Masking Magic to create masks of the furmaids. 
 The second component of the spinner mechanism is the square card base. First, I stamped the sentiments in the top corners, and heat embossed them with white embossing powder to create an ink resisting effect. I stamped the sentiments in the corners to stay out of the way of the moving component. Next, I ink blended the backgrounds to build the card scene. I used the Swirl Stencil (retired) with Cracked Pistachio, Mermaid Lagoon, and Chipped Sapphire Distress Oxide inks to create an ocean background that coordinates with the spinner mechanism. I ink blended the scalloped circle to match the card base. I used plain water to create the splatter look on all the surfaces.
 I used a paper piercer to poke a hole in the center of the two layers and placed a small brad within the hole. I used a black multi-liner pen to draw a direction arrow to show the recipient the card is interactive.
I wanted to create a hidden portion of the spinner mechanism, so I placed a sea floor to cover the bottom portion of the scalloped circle. I ink blended the sandy floor with Antique Linen and Brushed Corduroy Distress ink. I used Vintage Photo and Walnut Stain Distress ink and plain water to create the sandy-textured look. I colored the decorative pieces and attached them to the sandy floor with liquid adhesive. 
 To finish the card, I attached crowned dog furmaid to the center of the card with foam tape on top of the brad and the sandy floor so that the circle will still spin freely.
Check out the spinner mechanism in action in the video below: