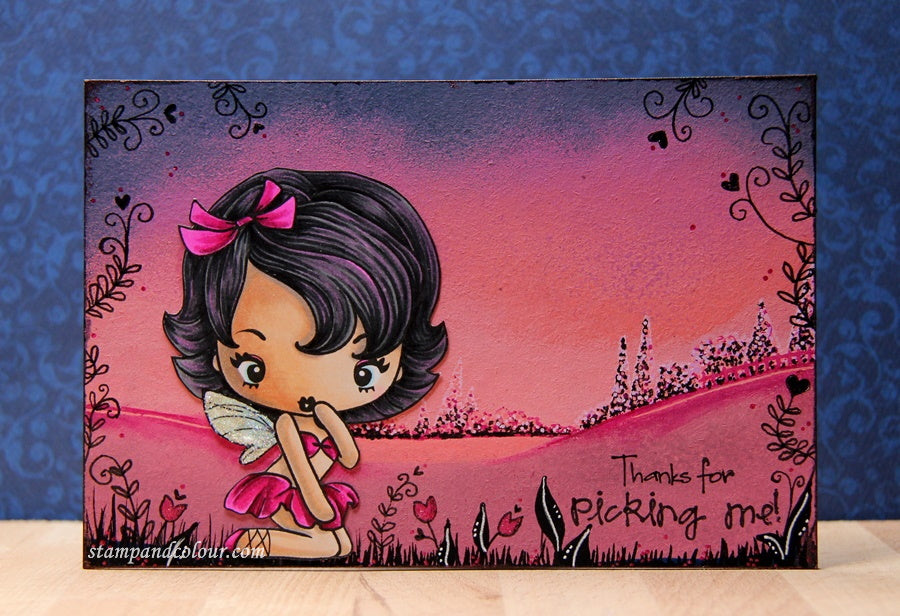 Guest Designer Delphine with a Cheeky Fairy Mixed Media Painting!
Hello everyone! It's Delphine here for my last GDT post, oh how time flies!! I have loved my month here and thought I would leave with a special thank you... "Thank you for picking me!" ;) I went for a girlish Mixed Media piece, featuring the Cheeky Fairy Digi.
I have used a piece of wooden board to create a sort of little painting - 4 x 6 inches. I started by applying Fresco Paints on all the surface in pinkish and coral tones. On my coloured background, I doodled using a multiliner and added lots of details in Posca paint pens. I coloured my Fairy in Copics only, trying to use colours to match my background - hence the touches of pink in the hair. Here is a close up on the Copic image and the list of colours I have used:
Skin: BV02, E000, 00, 11
Hair: 100, N5, 7, RV04
Clothes: RV04, 09, 69
I adhered my Fairy to my board using Glossy Accents. I added the sentiment "Thank you for picking me" from my Anya Blooms rubber set and added touches of glitter pen here and there with Stardust Stickles on the wings of course. 
Thank you very much for stopping by and for the super kind comments you have left on my posts, I'll see you around in the TGF Fan FB group! 
Hugs,
Delphine xx