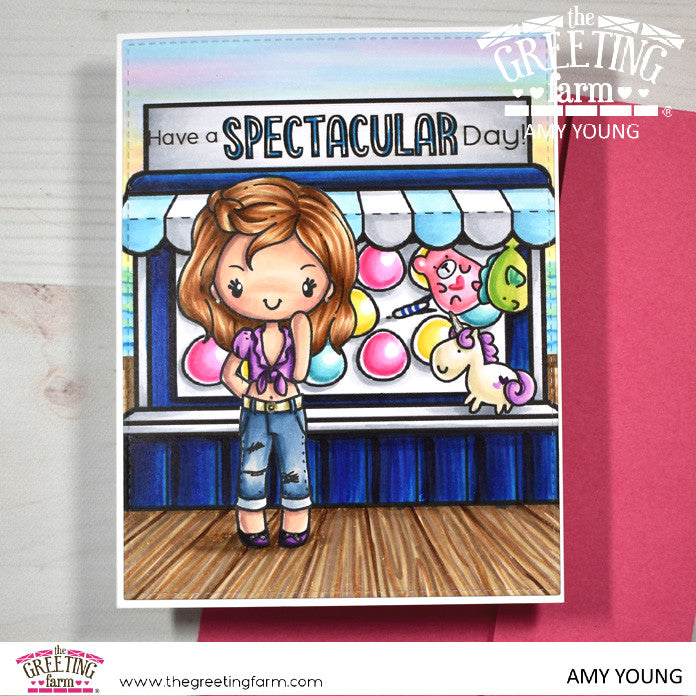 Hello fellow Farmers!
Amy here and today I've got one more card featuring another casual cutie from the Miss Anya Jeans set. I have so much fun taking these clear characters and putting them into digitally created scenes using all of the great builder sets that can be found in the store. For this gal's scene I wanted to have her spending a hot summer day walking the boardwalk, enjoying all of the games and attractions. The Carnival digi set was perfect for this with all of the different booths and games that are included. 

I set it up so that Miss Anya is playing a game of darts and from the look of things she has just won herself a super fluffy unicorn. She appears to be quite tickled with this happy achievement and it certainly makes for a pretty spectacular day.  

When it came to pulling colors I decided to stick with a crisp blue and white for the booth itself as I felt that combo had a very seaside vibe to it. The balloons are brighter versions of the pinks, blues and yellows that I used in the sunset sky. I also used the same purple combo on both the unicorn plushie and Anya's shirt for balance and to hint that they belong together. All together I think it makes for a cheerful summer scene and a pretty cute card. ;)

Stay crafty my friends!