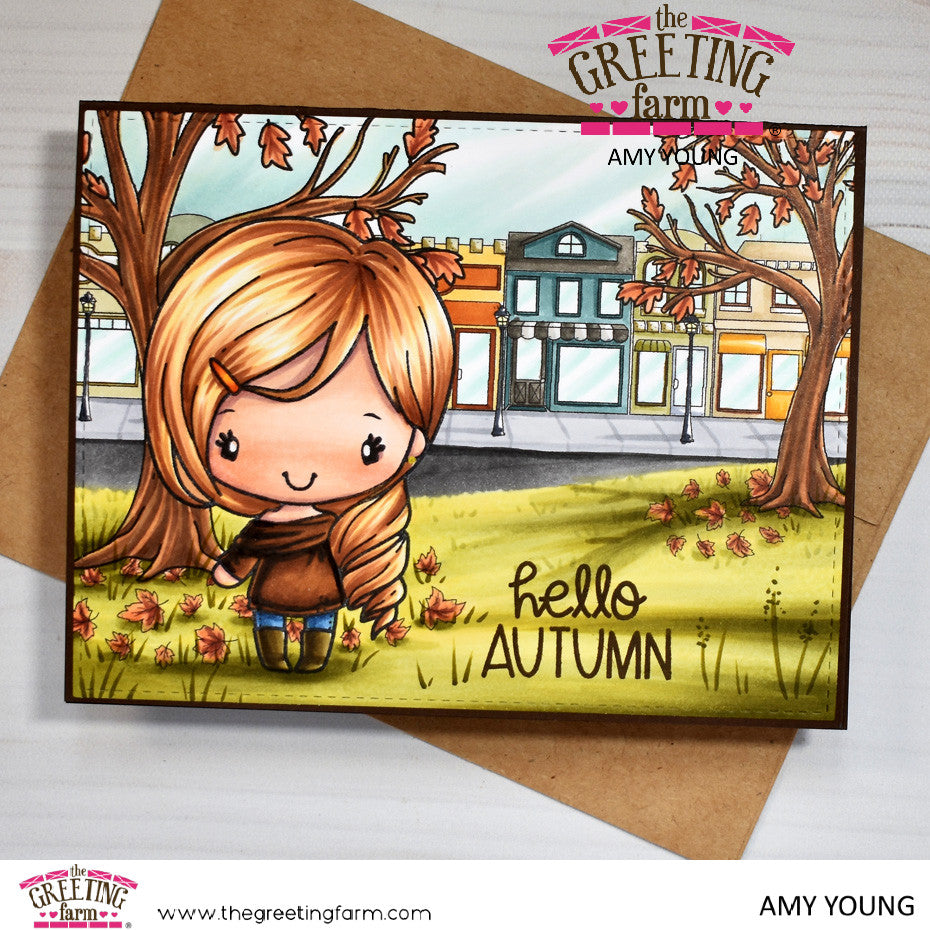 Hello fellow Farmers!
Amy here, and today I've made a Fall card using one of the stylish Anyas from the big Anya Combo 2 kit. Because a lot of the cuties in this kit are wearing sweaters and other cold weather apparel, I've been waiting for the right time to start creating with them... and here we are! I instantly fell in love with this beauty and her perfect curl of hair so I decided to put together a charming small town background for her using the Store Fronts and Hello Fall digital sets.

Because I wanted this quaint hometown street to appear off in the distance I played with the sizing of the Store Fronts and shrunk them way down before lining them up across the card front. Next I added the tree from the Hello Fall set in two different sizes. The smaller one was placed on the right side of the scene, slightly higher up than the larger tree placed on the left. This trick helps to reinforce the illusion of depth and distance as the larger tree appears closer to us, the viewer, and the smaller one appears to be growing further away. With the digital scene complete, I simply taped my card front that had Anya stamped and masked on it, to a sheet of computer paper and ran it through my printer. Once the mask was removed, Anya was right at home.

Now it was time to color and I kept to a very soft autumnal color palette with lots of brown hues and grey undertones. Rather than go for all of the bright and vibrant colors of early fall scenes, I wanted this to instead look like one of those late Fall days where it just feels like it could start snowing at any minute. Most of the leaves have already fallen off the trees and have blown away, leaving bare branches etched against the dull blue sky. The sentiment is from the Foxy Fall clear set and I added it to the grass at Anya's feet to complete this pretty seasonal card. :)

Stay crafty my friends!