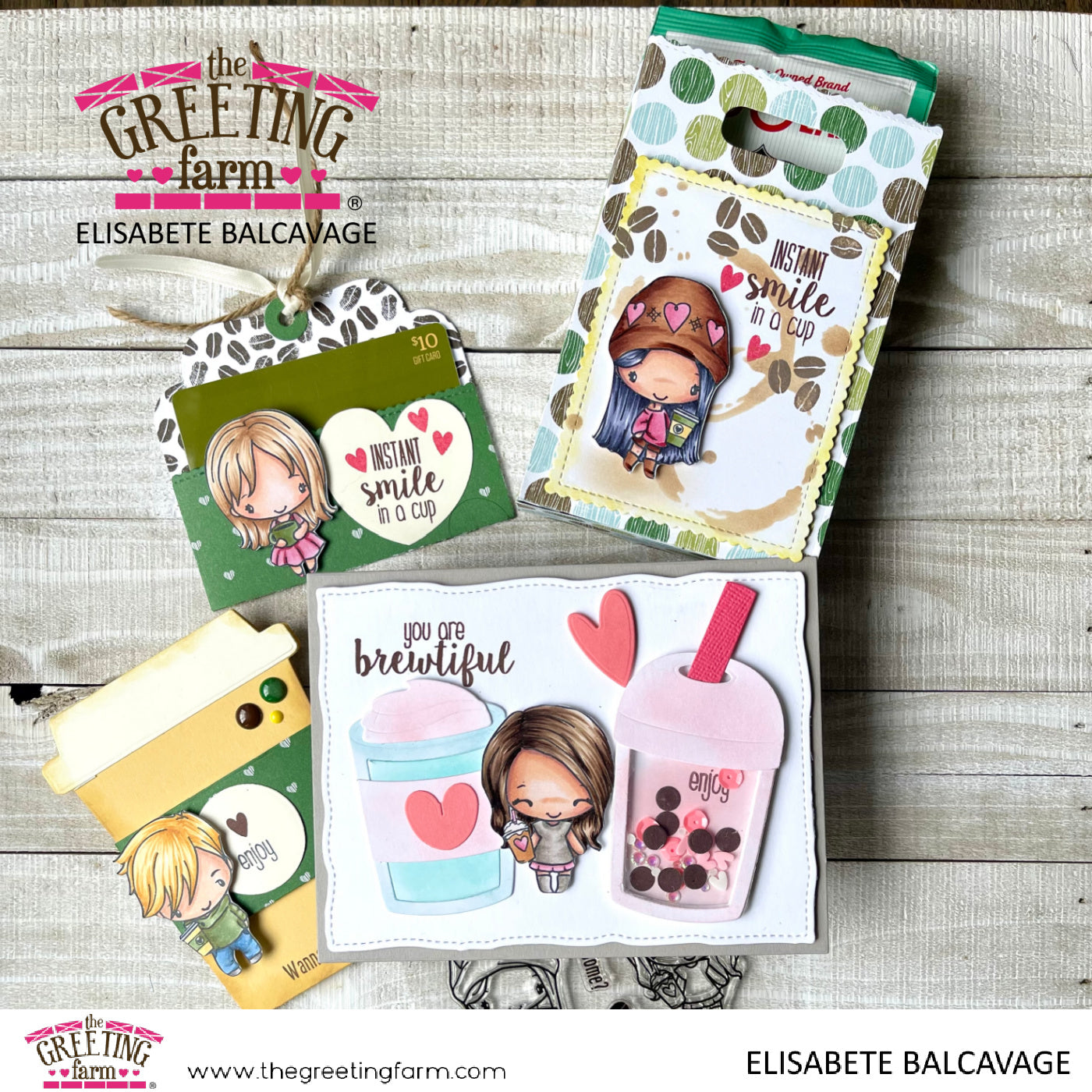 Instant smile in a cup! MIni-Remix Brewtiful
Hello TGF Friends! 
Elisabete here on the blog today to give you a little inspiration! I don't know about you but the gift card that I gift the most is a coffee shop one!  I always like to treat teachers, coaches, friends and both my girls.  Who doesn't like coffee?? (or tea!?)
The Greeting Farm has some wonderful coffee themed stamps, but this Mini-Remix Brewtiful set is just so perfect to create customized coffee gift cards holders. (Unfortunately, It just sold out in the shop). I had so much fun creating these and share them with you.   You can pair it with any gift card/treat bag die or coffee theme die you have.  I created four different projects.  
First up is a traditional coffee themed shaker card in which I plan to put a gift card on the inside.  I die cut a couple of drink cups and with one created a little shaker element. 
Second project is a couple of different shaped gift card holders.  
Finally, I created a little treat bag with some packs of hot chocolate inside and a gift card as well.  
All images were colored with Copic markers, die cut with a Brother Scan & Cut and popped with foam adhesive.  This set has so many wonderful sentiments and lots of little accessories that make these little treat holders so easy to put together.  
Wanna grab a cup with me?? 
Hugs! Elisabete 
Copics Used: 
Anya with hat: Skin E04, E11, E00 R20  Hair: BV29, BV25, BV23
                        Outifit & Hat: E23, E25, E29, R83, R85  Cup: Y21, G94, G99
Ian: Skin E04, E11, E00  Hair: YR24, YR21, Y21 
       Outfit: B95, B99, G94, G99, W5, W3    Cup: Y21, G94, G99
Anya card: Skin E04, E11, E00  Hair: E42, E44, E47, E49 
                  Outfit:  W5, W3, W1, R85, R81   Cup: E23, E25, R85, R81
Anya Gift card holder:   Skin E04, E11, E00  Hair: E50, E53, E55, E57
                                      Outfit: R81, R85, R89,  Cup: G94, G99