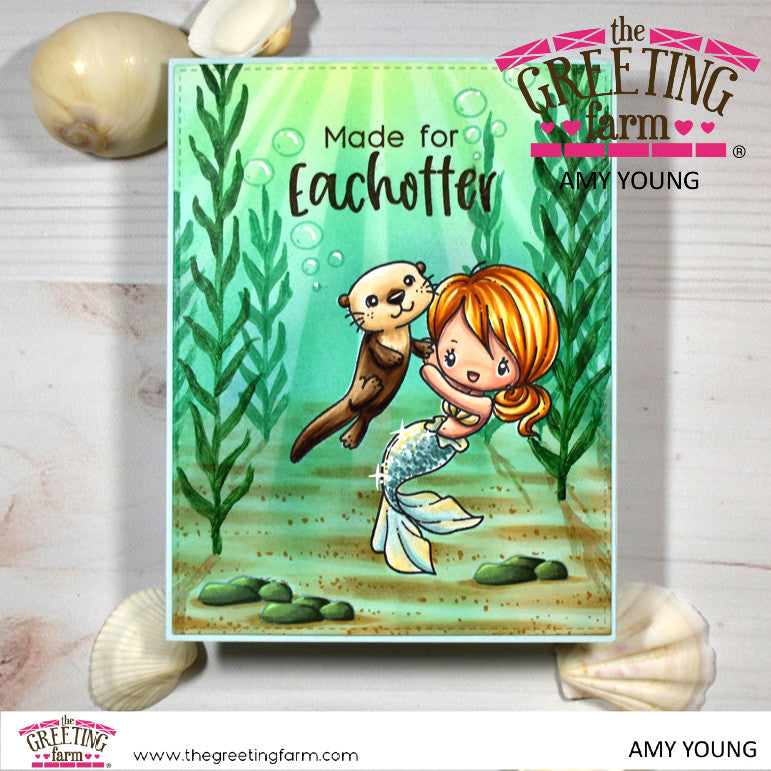 Hello fellow Farmers!
Amy here and and I'm back with another Mermaids Galore card as I continue to celebrate all things MerMay. It feels so good to finally be making a dent in this amazing kit that was released last year and was also recently available in the April Farmer's Market. For my card today I paired this cute swimming mermaid, her arms outstretched, with the adorable otter who is doing the same. With a little masking of his paw before stamping her I was able to make it look like they are holding hands. 

Next I colored them both up along with the sandy sea bottom and the rock piles. Then I masked the two and used my Copic airbrush system with a sun ray stencil to color in the water around them. I love how it looks like the light from above is filtering down through the waves. Once I had the water done I stamped on the sentiment and bubbles that are also included in the kit. 
The final finishing touches were freehand coloring in the kelp bed all around our two deep sea besties and grabbing my white pen to add some sparkle and shine to the mermaid's tail and the bubbles.  :)
Thanks for swimming by today and stay crafty my friends!