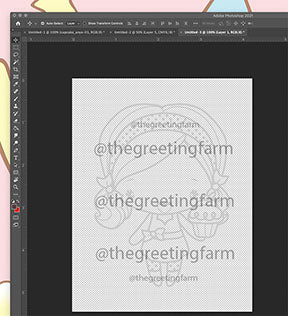 No Line using Pages and Photoshop plus bonus techniques
Hello everyone! Happy Monday! We are thrilled that many of you found Delphine's No-line stamping using TGF Digital stamps on Microsoft Word useful! We love that our tutorial/process videos help you! In today's tutorial, I share a super-easy way (if you didn't know) to do it in Pages and Photoshop. PLUS, I've included two techniques on more ways to use digital stamps!

Please have a look, and let us know what you think. Are these videos helpful? Want more? If you have any suggestions, please go ahead and leave them in the comment section, and we'll try our best to do them!



✩ ✩ ✩ ✩ ✩ ✩ ✩ ✩ ✩ ✩ ✩ ✩
Stamp used:
Cupcake Anya (digital)

✩ ✩ ✩ ✩ ✩ ✩ ✩ ✩ ✩ ✩ ✩ ✩
The Greeting Farm
Facebook
Instagram
YouTube

✩ ✩ ✩ ✩ ✩ ✩ ✩ ✩ ✩ ✩ ✩ ✩
Music:  
Positive Happy by PeriTune https://soundcloud.com/sei_peridot Creative Commons — Attribution 3.0 Unported — CC BY 3.0 http://creativecommons.org/licenses/b... Music promoted by Audio Library https://youtu.be/TutcA4JPa7Q