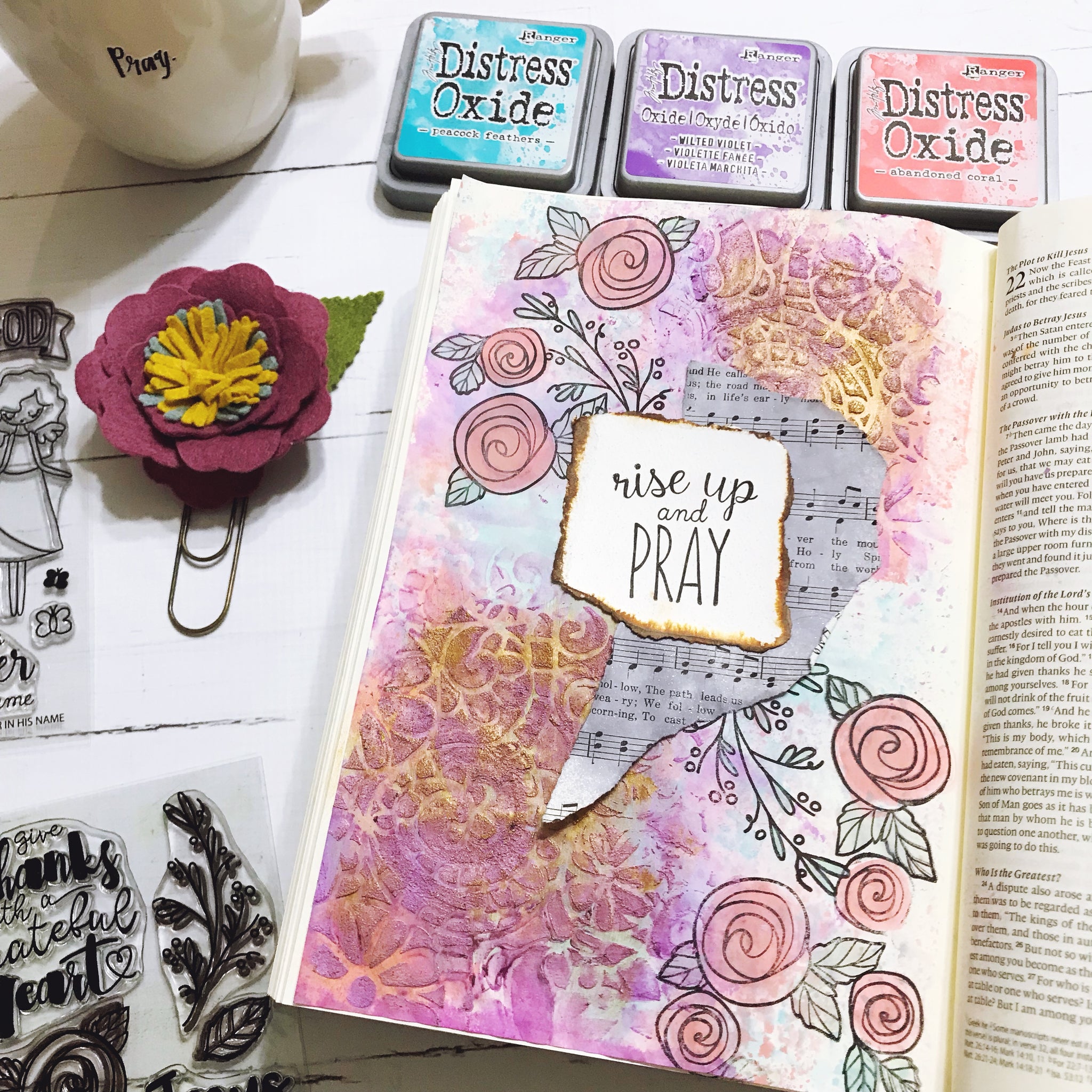 Hey Ya'll!  Jessica here on this lovely Saturday to share my page using two stamp sets from The Greeting Farm.  I used both Power in His Name and Grateful Heart.  Don't you just love how stamps can take a page and kick it up a notch or two!?  I love a messy background.....I like to swirl paint around, squish inks, and just play.  It is freeing and therapeutic.  Once I finish a background, the stamps create the scene that has been in my mind.  
Does anyone else struggle to tap into the power that we have in prayer!?!  The mightiest weapon we have on this earth starts while we are on our knees.  I struggle all to often in this department and get distracted and frustrated.....tired and anxious.  I will make excuses and say I will do it later.  But really, should there ever be an excuse not to pray?? Should there ever be a time that I don't spend time talking with my Father?  The answer to that question is a resounding "NO." Prayer is where my day, my life, should begin.  Prayer is my weapon for the trials of this world.  
In Luke 22:46 Jesus is responding to the disciples who fell asleep while He was praying on the Mount of Olives "and He said to them, 'Why are you sleeping? Rise and pray that you may not enter into temptation.'"  May we all heed these words of wisdom and truth and RISE UP and PRAY!
On this page I used Distress Oxide in abandoned coral, wilted violet, peacock feather; distress crayon with stencils and dry brushed gold on top; old hymn and water color paper scraps; stazon ink in black. Here is a quick process video.  Have a fantastic weekend, friends.