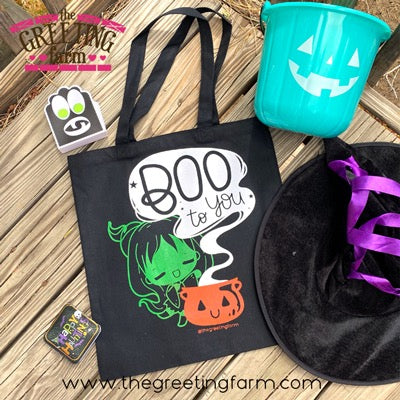 Suprise! New Halloween Product Release!
Woohoo! We got a super-duper cute product release today! I'm so excited because it's so adorable, and I can't wait to transfer out of my old TGF tote into this new one! I've got a quick video with details of the tote, i.e., how much, freebie, and second printing, so please make sure to watch the short video for all the information!!!
You can view all the written details of this tote on the YouTube video description box! 
Here's a look at the coordinating Digital Stamp that you could get as a freebie for the first 25 ppl to place your tote bag order!
You can purchase the Tote bag here.
✩ ✩ ✩ ✩ ✩ ✩ ✩ ✩ ✩ ✩ ✩ ✩
The Greeting Farm
Facebook
Instagram
YouTube

✩ ✩ ✩ ✩ ✩ ✩ ✩ ✩ ✩ ✩ ✩ ✩
Music:  
Positive Happy by PeriTune https://soundcloud.com/sei_peridot Creative Commons — Attribution 3.0 Unported — CC BY 3.0 http://creativecommons.org/licenses/b... Music promoted by Audio Library https://youtu.be/TutcA4JPa7Q