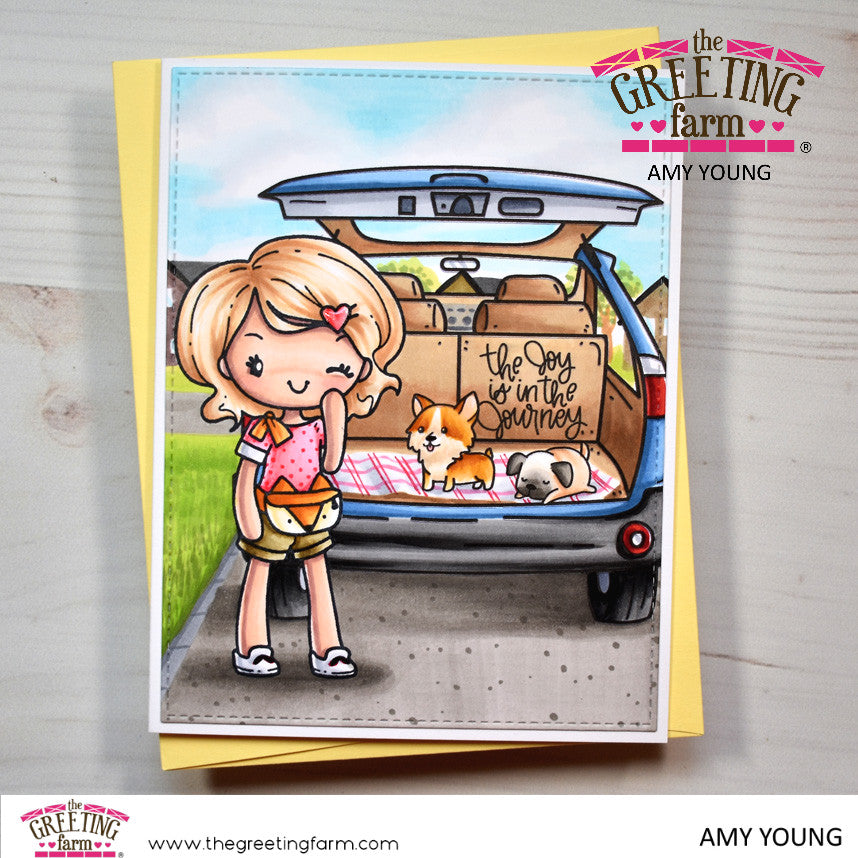 The Joy is in the Journey
Hello, hello friends of The Farm!
Amy here with my first DT post of the new year... gosh it feels like it's been awhile! I've been saving this cutie from the Miss Anya Fanny Pack stamp set, that was released this month, for just this occasion. 
I knew I wanted to tell a special story with this happy girl and when I scrolled past the Joy is in the Journey digital sentiment I had a light bulb moment. This Miss Anya certainly looks pretty joyful and she's gotta be heading somewhere with that cute fanny pack so I stamped and masked her on a piece of Copic X-Press It cardstock that had been cut down to 4.25"x5.5". Next I got on my computer and proceeded to put a scene together using the car from the SUV Trunk digi set and the pups from the Park Lunch and Bay Window sets respectively. The sentiment that inspired everything got shrunk way down so it would fit nicely on the back of the car seat. 
I then printed the car and pups out on a regular sheet of cheap computer paper. Once I had that, I lined up the piece of card stock with Miss Anya on it so that she was positioned in front of the car just where I wanted her before taping the card stock to the full sheet and running it through my printer a second time. Now all I had to do was gently peel away the tape and the mask I had over Anya and I was ready to color. It looks like Miss Anya is parked in the drive as she loads up her little co-pilots for a trip. Where will they go? The dog park? To Starbucks for a pup cup? Wherever they end up you know they will have fun getting there. :)
Stay crafty my friends!