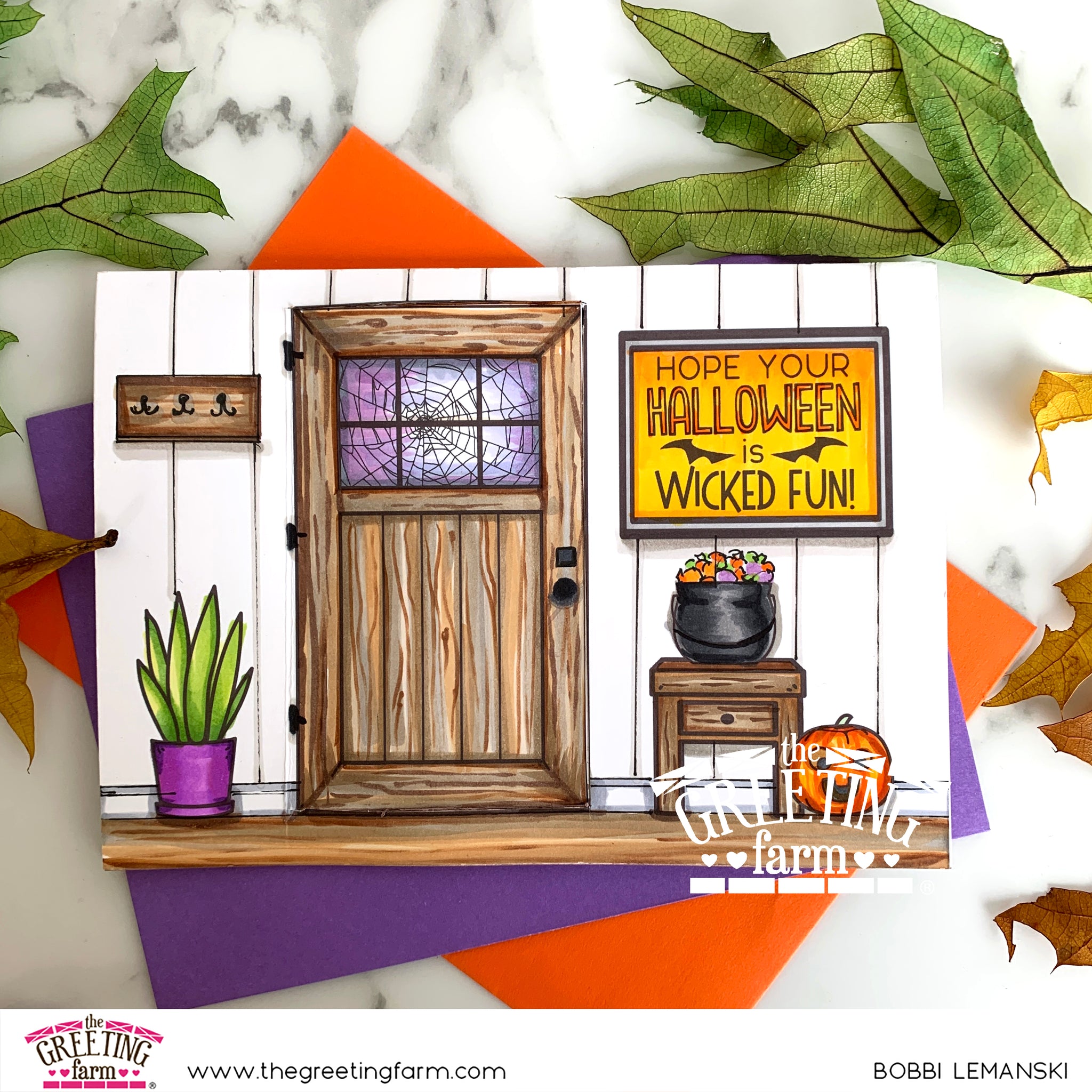 Hi Farm friends! It's Bobbi Lemanski here sharing a peek-through door card for Halloween using the new The Greeting Farm Halloween digital sets. This is one of those cards where the inside is on the outside and the outside is on the inside!  You get two scenes in one card. 😊  On the card front you see a perfectly nice interior of a house decorated for Halloween. You can see the full moon shining through the door's window, too. Notice the treats on the table, next to the door. This house is ready for Halloween night!
Knock, knock… Well, look who's at the door! The trick-or-treaters have arrived in costume and are ready for some treats! Notice that the exterior of the door now shows from the front when it is opened. You can see there's a light on inside the house from this view.
When the card is fully opened, all the treaters are visible with the full moon to their backs and one creepy tree on the side. No tricks, these kids want treats! The inside of this card is really the outside on Halloween night.
This card features all three of the new Halloween sets just released this month.  To make this 5" X 7" card, I used the following digi products by The Greeting Farm:
NEW Halloween Night Digi set -  Tree, moon/clouds, pumpkin, cobweb, cauldron
NEW Hallo Sentiments Digi set  – Four sentiments used, 1 on the front in the frame and 3 on the inside panel.
NEW Trick or Treat 4 Digi set – Kids in costume
Porch 2 Digi set – Door
Build-a-Living Room Digi set – Plant and table
I hand drew the wood floor, coat rack, and paneled walls and the speech bubble outlines.
When I make cards like this one where I've colored the panels with Copics, I create an 80lb card base (7" wide X 10" tall and score in the middle) I print my two 5" X 7" digi scenes on a separate piece of 80lb cardstock and cut them to fit. I color the digi panels and then attach them to the card base. This conceals all the marker bleeding.
I created the card front and interior panel scenes using Photoshop. You can use Word or any other program you prefer to use to do this, too. TGF digis are so easy to work with and offer so many possibilities for scene creation.
To make the door open, I simply used my Fiskars Deluxe Cutter to line up my cutting blade with the door. It's very easy to do. I cut the door on both the front card front with the coloring and my card base front. I printed an additional door and adhered that to the inside of the door opening for the exterior door view. Again, this allows any marker bleeding to be "sandwiched" and not visible.
I colored everything using Copic Sketch Markers. Here's a few colors I used:
Night sky: V15, V06, V05, BV04, BV01, BV00
Grassy area: YG63, YG61, YG03, G99, etc.
Tree: W9, E49, E47
Costumes: C9, C7, C5, C3, C1
Kids Hair/Faces : E13, E11, E00, E000, E57, E43, E55, C9, C7, C5
Door and table: E44, W4, E57, E47, E50, W2, W1, 100, C5 and for exterior window: C7, C5, C1, Y00 and for interior window: V15, V05, V04
Moon/ Clouds: YG01, YG00, BV000, BV00, C1
You can check out all of The Greeting Farm products here!
Thanks for stopping by today. If you want to see more ideas and inspiration from me, subscribe to my blog, BobbiHartDesign.com. I'll send you updates on new posts! You can also find me on Instagram as @BobbiHartDesign and on Facebook as BobbiHartDesign.
Bobbi Hartmann Lemanski, Bobbi Hart♥ Design
Adding h♥art into every design