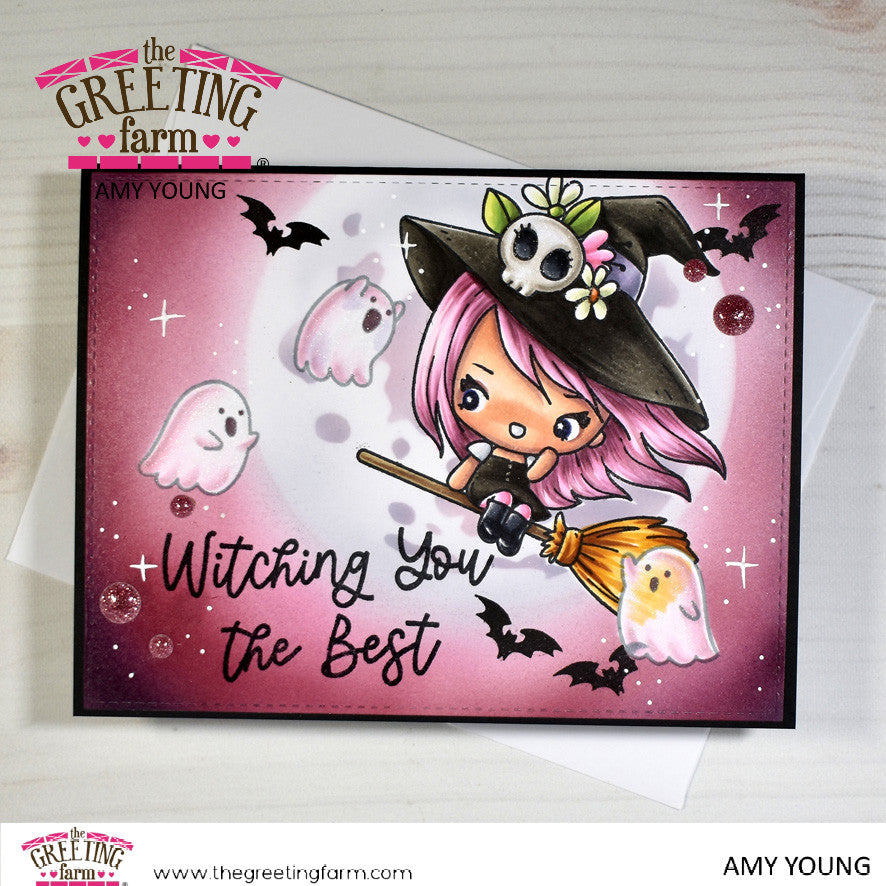 Hello fellow Farmers!
Amy here and now that we are officially in spooky season I'm all about making fun Halloween cards. This had me reaching for the adorable witchy Beans in the Hocus Pocus kit. Year after year, I slowly whittle away at getting them all inked up. This time around one of the little broom flying witches caught my eye and with her cute pose I thought that it would be fun to pair her with some wee ghosties from the new Boo set. 

I started by stamping the three ghosts first, using Memento London Fog ink so that they would look lighter in comparison to the witch that I then stamped using Tuxedo Black ink. I did mask the ghost in the bottom right corner first so that he would overlap the broom just a bit. Once all of the characters were in place it was time to color and I figured that this sweet boo crew would look fantastic in the current "Pink-oween" trend.

I started with the witch and gave her a fabulous head of dusky pink hair. Her stylish ensemble is mostly made up of dark warm grey tones to really contrast the light pink. I also used soft, pastel versions of the traditional green, orange and purple Halloween colors in the decorations on her hat. Once Witchy Bean was all colored up I masked her and the ghosts before grabbing a large moon stencil and my Copic airbrush system to quickly spray on a pretty pink midnight sky. Once the sky was on and setting the scene I removed the masks and used some of the same pink Copic markers to add a bit of color to the ghosts as well. For the final finishing touches I stamped a sentiment from the Hocus Pocus kit and the silhouette bats from the Boo set. With a white Sharpie pen I also added some magical sparkle around them all, as well as a sprinkling of glittery pink enamel dots to make the entire card extra girly and cute!

Thanks so much for stopping by and stay crafty my friends!