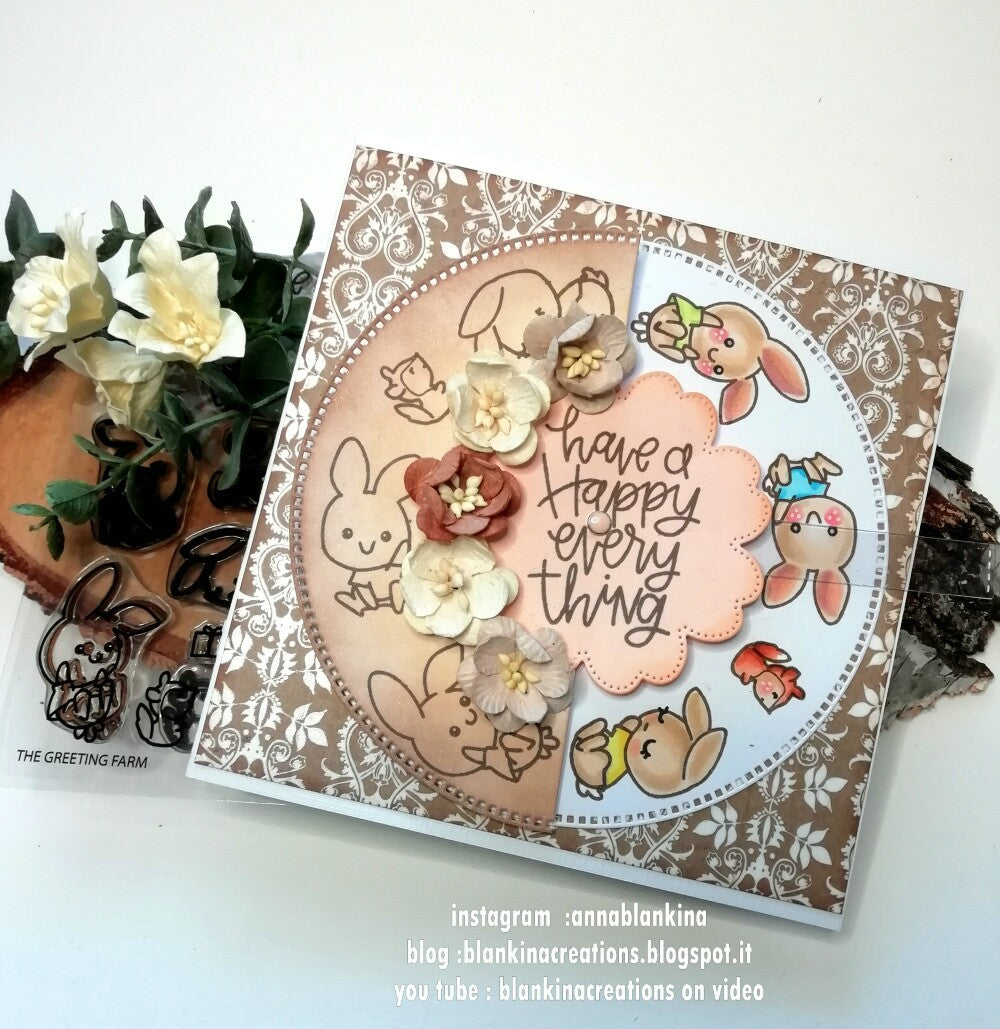 A Fun and interactive card with Guest YouTuber Anna!
Hi it is Anna here I am back with a new YT video tutorial ..
Happy Everything is such an amazing cute clear stamp set full of bunnies and elements,for all kind of occasions ..   I could not resist to make a fun interactive card where lot's of bunnies will be displayed.
To make this card you will need a square card ( mine is a 6" x 6" double card )  a piece of  design paper and some circle nesting dies, a brad and a piece of acetate. I have used some hybrid ink pads and Copic to color ( see list below ).
The bunnies were stamped with brown ink onto some Copic paper and I love the different effects you can create, the same bunnies in a different way .On the left side the brown stamped bunnies just have some blended hybrid inks on top and the other bunnies where colored with Copic. What do you think fun right? 
In my video I show you step by step how I have made this interactive cardhope you will enjoy the video and that it might inspire you .
Thank you very much for the sweet comments on my first GDT post& coloring video too, it can be found here. in case you have missed it.
✩ ✩ ✩ ✩ ✩ ✩ ✩ ✩ ✩ ✩ ✩ ✩
The Greeting Farm clear stamp set : Happy Everything 
Copic :
bunnies : E 50, E 51, E 53, E 55
E 95, E 04
squirrel : E 95, E 97, E 99
E 51, E 53
R 20, R 22
shirts : RV 21, RV 23, RV 29
YG 00, YG 06
B00, B 05
Y 02, Y 04
V 01, V 04
dies : Crealies Crea-Nest-Lies XXL 104, Crea-Nest-Lies XXL  119
inks : KK Krafty Kolours hybrid inks 
Party Peach ink, Marvellous Mocha ink, Sandy Shores ink  
design paper : Perfect Moments First edition paper 
flowers : cherry blossoms from I am Roses 
✩ ✩ ✩ ✩ ✩ ✩ ✩ ✩ ✩ ✩ ✩ ✩
That is all for now, hope you will follow me here too:
blog : blankinacreations
IG : @annablankina
YT channel : blankinacreations on video


Hugs Anna Blankina