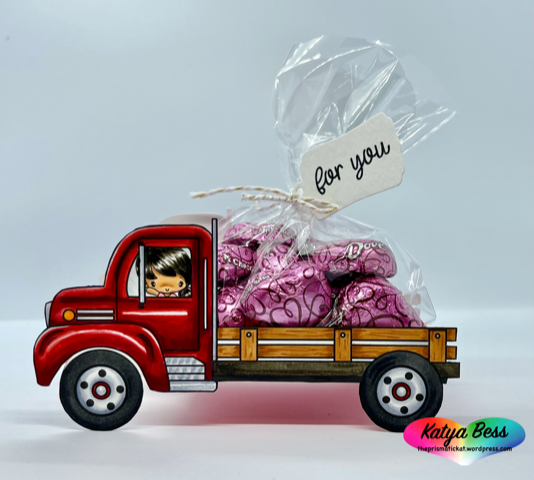 Awesome Truck Candy Holder with GDT Katya Bess!
Hello Everyone, I'm back this week at The Greeting Farm, as Guest DT. I have another Valentine's Day or Galentine's Day inspiration project for you to try. This time it's not a card, but a little 3D project- which is out of my comfort zone but I wanted to try something new. I love Valentine's Day cards and projects but always feel bad when I don't mail many out. With all that is going on in the world, some of my Galentines need some extra love and some more sweetness in their lives so my project will contain chocolates. Heehee
To create this Anya driving a truck with a load of chocolate hearts, I merged digital stamp Hello Fall - digi set and 2020 Girls - digi set. The back side I just copied both images then flipped horizontally (or mirror image.) I printed one set with Copic Xpress It paper and the other set I printed on heavy cardstock to make the truck more sturdy.
As you can see, I just colored some hair over the face so it can look like it's the back of her head. I also colored part of the arm with hair to show that she's waving her arm from the front side.
To create the pick-up bed I cut a red heavy cardstock to measure 4 1/4 inches by 3 1/4 inches, then scored all sides 1/2 inch.
When you glue the corners, you'll need to add your adhesive on the long sides of the pick-up bed. I first added double sided take and then some wet glue. You don't have to use both types of adhesive, just make sure it's something that will hold. When dry you can add your treats.
I found these fun heart-shaped Dove chocolates. Here is how it looks at an angle.
I hope you liked my project and perhaps give it a try. Have a colorful day!
Copic X-press It blending paper.
Recollections 110 lb heavyweight cardstock for added sturdiness.
Copic colors used:
Skin: E51, E55, E33, R21
Shirt and hairbow: RV21, RV23
Hair: W9, W7, W5
Truck: R24, R27, R46, R89, C1, C3, C4, E99, E23, R25 
-Katya Bess