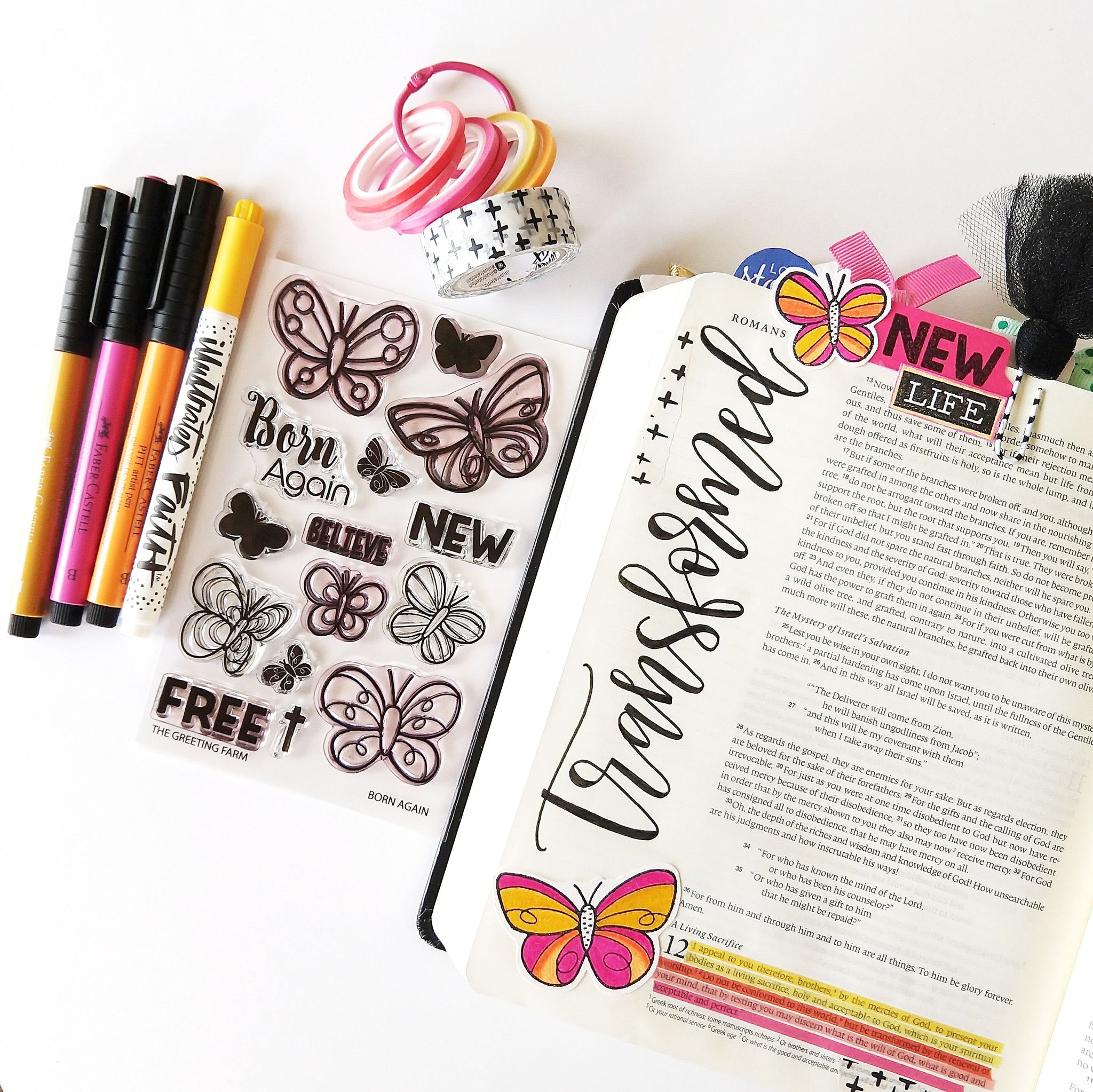 Happy Saturday! Elli here sharing a page from my Bible in Romans using the "born again" faith stamp set.
I was inspired to create this page after studying Romans chapter 12 in BSF (Bible Study Fellowship) There were a few things about transformation that have really stuck with me as I've been studying, and it's been neat to see God continue to reveal this idea of transformation as I continue to read through Romans.
The verse I highlighted is Romans 12:1-2
"Therefore, I urge you, brothers and sisters, in view of God's mercy, to offer your bodies as a living sacrifice, holy and pleasing to God—this is your true and proper worship.  Do not conform to the pattern of this world, but be transformed by the renewing of your mind. Then you will be able to test and approve what God's will is—his good, pleasing and perfect will."
Transformation starts with the renewal of our minds-what we think and believe. What we think and believe will effect what we do and how we live. This is why it is so important to spend time soaking in God's Word-it is how He renews our minds!

Transformation is also rooted in repentance. Once we confess our sins and put our faith in Christ, the Bible says we are a new creation. We are transformed. I love what my BSF teaching leader said, "Transformation is not a reshaping, it is a remaking!"
Transformation is the work of the Holy Spirit. God will transform your mind and your heart as you follow Him.
I used the "Born Again" stamp set because butterflies are a beautiful picture of transformation! This page is a sweet reminder of the work God has done and is continuing to do in my heart, my mind, and my life.
Thank you for spending some time with me in Romans. May God's transforming work in your life be a testament to His power and grace! God bless!