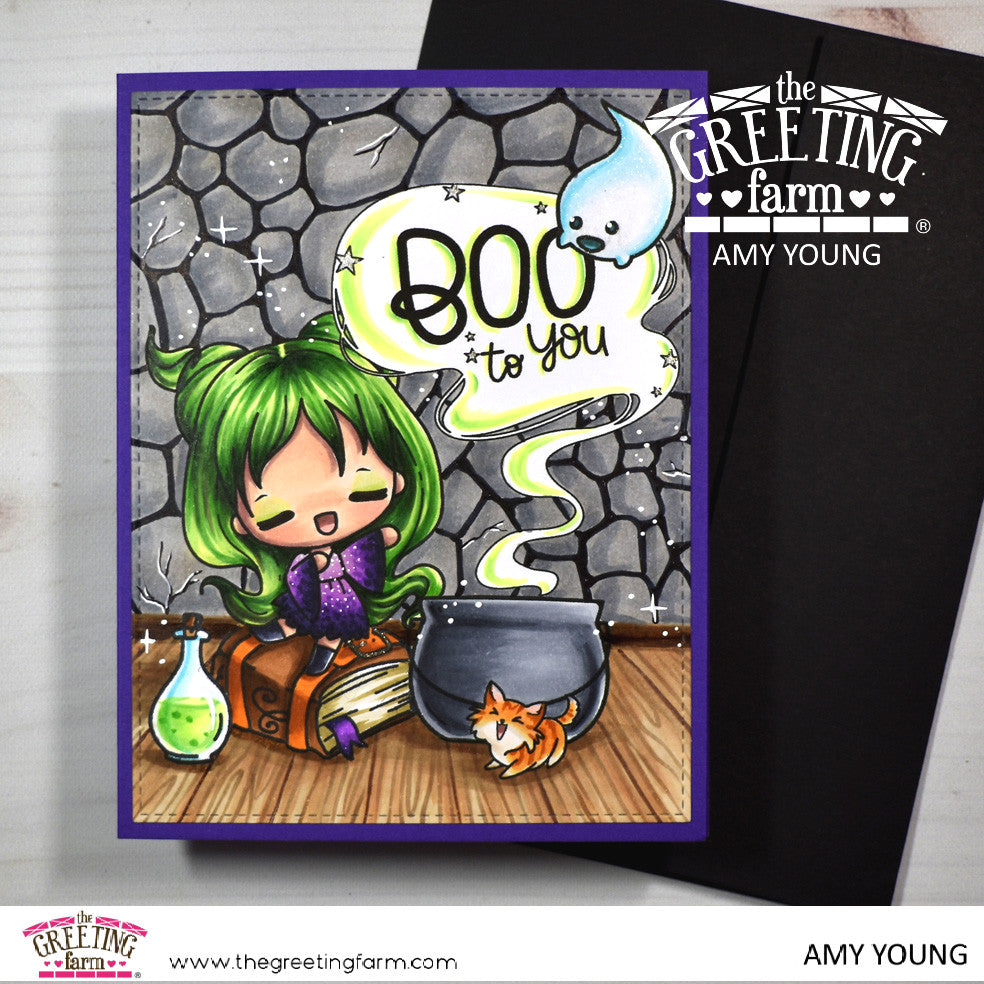 Hello fellow Farmers!
Amy here and back with you again, just in time for one last Halloween card. I couldn't wait to color up the new Boo To You digital stamp set that Marie added to the store earlier this month and I paired the fun witch with a mix of other digi and clear stamp images to really build up a spooktacular scene.

Working in Microsoft Word, I first imported the witch, vapor and sentiment from the Boo To You set then added the ghost and cauldron from the Halloween Nite digi set as well as the cute kitty from the Build-a-Laundry Room set. I arranged them so the vapor coming out of the cauldron was nice and large so I could fit my sentiment right inside of it. I brought the ghost in front, even partially obscuring the sentiment, which adds visual interest and it is still perfectly readable. I made sure the little witch was raised high up the side of the cauldron because once I printed this out I masked her and the cauldron so I could stamp the large spell book and potion bottle from the big Spellbinding kit and have it look like she is standing on top of the book.

Now I was ready to color and I thought she would look great with striking green hair and an ombre purple gown full of sparkle. Usually I have black cats on my Halloween cards but in this case I went with an orange tabby so she would pop better against the dark cauldron and hey, orange is a traditional Halloween color too! In the background I sketched in a stone wall to make it look like our witch is casting her spell inside an old castle. That was all I needed to to complete this super cute Halloween card. 

Thanks for stopping by and have fun this weekend... may you get more treats than tricks!