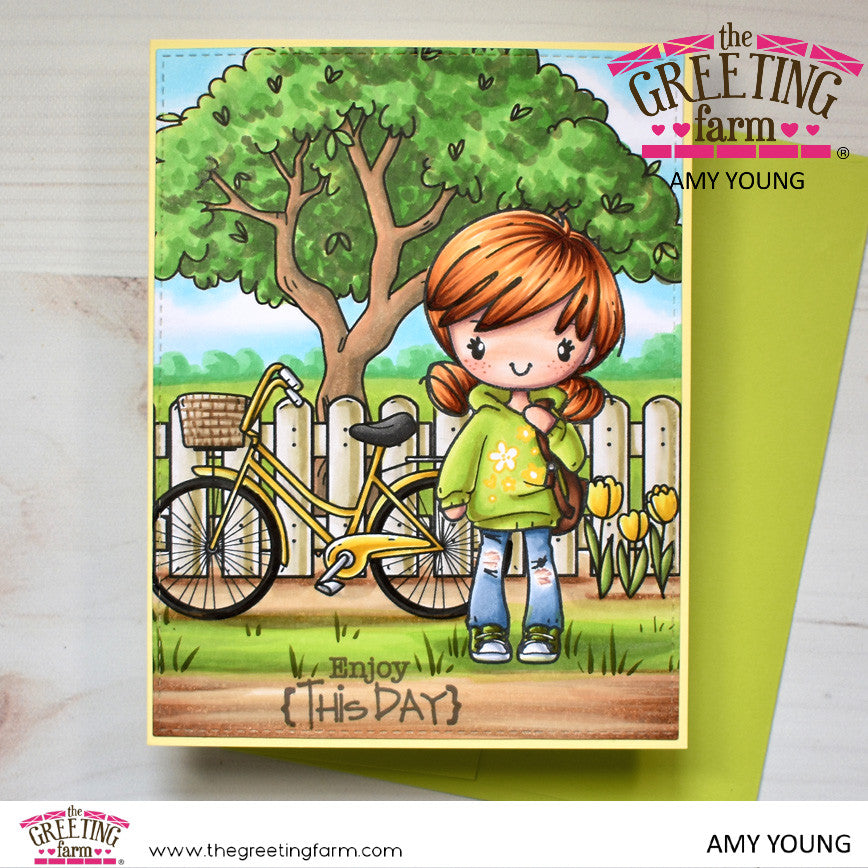 Hello fellow Farmers!
Amy here, and we've made it to March so it's time for another addition to my unofficial personal challenge.I've been working my way through the Miss Anya All Year kit since last July but since there are only ten Miss Anyas I knew I would have to get creative with the remaining two months. The first repeat was using December for January and now I'm repeating the same gal I used back in September. The jeans and hoodie look works just as well for early spring days and I did some selective inking to wipe the ink away from the book that she is originally holding before stamping, just to change things up a bit. I also used some of the tiny design motifs from the retired Shimmer Bean stamp to decorate Miss Anya's hoodie. Then it was time to mask her off and go to my computer and build the perfect digital scene for this month's story.
For this scene I figured we have caught Miss Anya enjoying a casual weekend day where she is about to hop on her bike and ride into town. She is looking super chill in her comfy hoodie and favorite pair of ripped jeans. The bicycle and large tree are both part of the Picnic digi set while the picket fence and tulips are from the Gardening digi set. I layered them all together so that when I ran my card stock, with Anya stamped and masked on it, through my printer she would appear to be standing in front of the whole tableau.

Because we have St. Paddy's Day in March I couldn't resist giving this version of Miss Anya some lovely red hair and a few freckles on her cheeks. I also used a lot of green on this card both on her outfit and in the background, there's no chance of her getting pinched my a leprechaun, LOL! Because I knew that I wanted to give Anya jeans with the knees worn through I added a couple of patches of skin tone to each knee before I began adding the blue for the denim. Once everything was colored up I added some white gel pen around the holes, which helps to kind of fuzz the worn edges of the fabric. The little sentiment was also borrowed from the retired Shimmer Bean stamp set and I think it sums up this entire scene quite nicely.   

Well, thanks for stopping by and I hope you don't get pinched by a leprechaun this St. Paddy's Day either!  ;)