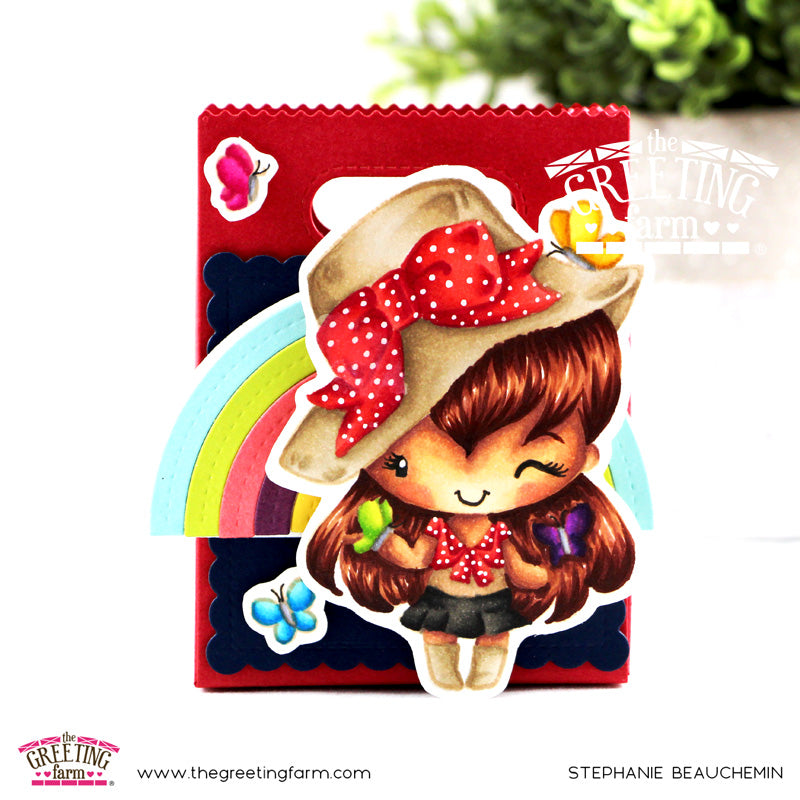 Hi everyone!
Stephanie here with you on the Greeting Farm to share some more inspiration with a cutie from the latest release! You heard me, let's give it up for Flutterby Anya, the character that inspires me so much with her large hat and sweet butterflies.
Instead of a card, I decided to use a die to create a little gift bag that would be just high enough for my 
Flutterby Anya to take the spotlight on. She was stamped with pale ink to create a no-line look with alcohol markers. I even went up and added a few dots with a white gel pen to her shirt and bow for a nice finishing touch.
When she was done, I fussy cut her with sharp scissors, leaving a thin white border all around her silhouette so that she would pop up more from the background. I added a few butterflies, too! 
And there's a rainbow diecut there, because with all the colors around her, I couldn't help but feel like it's all going to be okay with whatever I put in the little gift bag. Most probably candies, just to be on the safe side, right?
Have a great day, all!