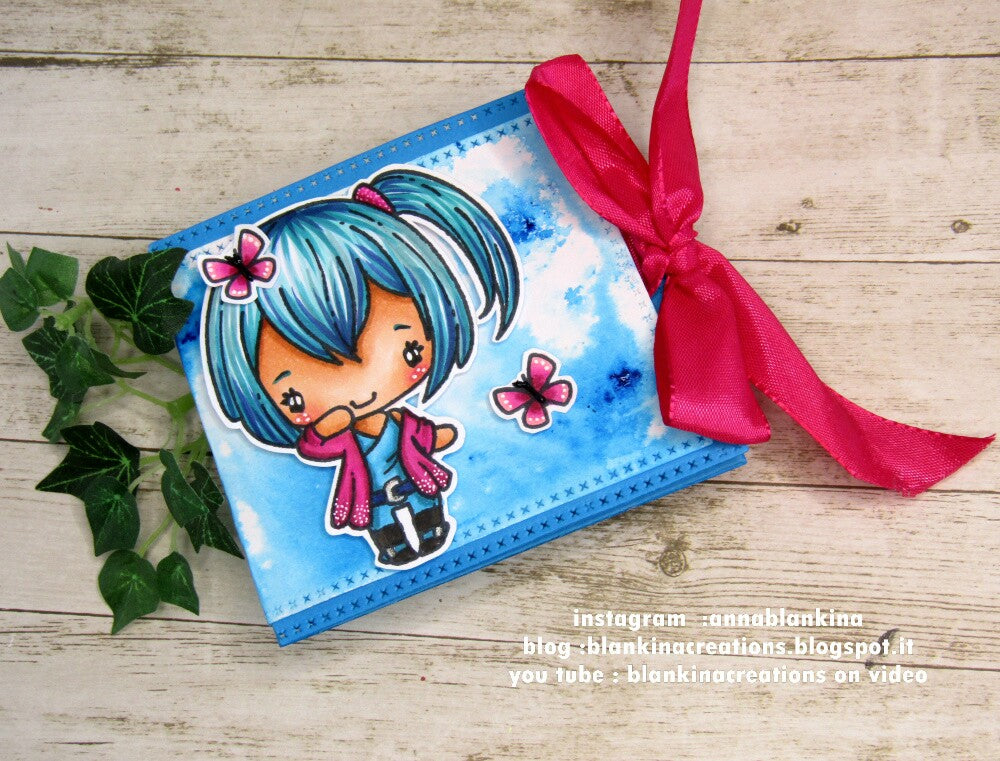 Guest Designer Anna Blankina with a Gift Pocket Card
Hi all, today it is time for my second GDT post. Are you ready for a super sweet girl, and some cheery colours? Love this cutie from the set called Nice Couple. I stamped her and some of the butterflies onto Perfect Colouring Paper, and used my Copics to colour them. I like to give these girlies fun hair colours. Today, I chose my blue-greens. After colouring, I fussy cut the stamped images.
For the background, I used my slimline nesting dies with a cross stitch border. I cut one slimline out of turquoise cardstock and one smaller nesting slimline die out of watercolour paper. On the watercolour paper, I sprinkled some turquoise pigment colorzz and sprayed it with water. When the watercolour paper was dry, I glued it onto the turquoise slimline with a big pink ribbon in between.
A fold in the middle and a pocket inside....the perfect little gift pocket card to hold some money or a gift card. On the pocket, I also stamped some doodle stamps. Did you see that?
The bold sentiment "have a nice day" and the doodles are also from the same stamp set. Next, I added the stamped images with some foam pads on to the gift pocket card. The two little butterflies were glued to the paper and bent slightly. In the center, I added some black Nuvo crystal drops.
So I hope to have inspired you today! Big hugs from Italy, and see you soon with another GDT post.
Anna Blankina
https://blankinacreations.blogspot.it
stamp: nice couple 
Copics:
skin: YR 00, E 95, E 97, E 99, R 32, R 35
hair: BG13, BG 49, BG 91, BG 18, B 39
jacket: RV21, RV 06, RV 34, RV 69
top and jeans: BG 01, BG 05, BG 09
boots: W 8, W 10