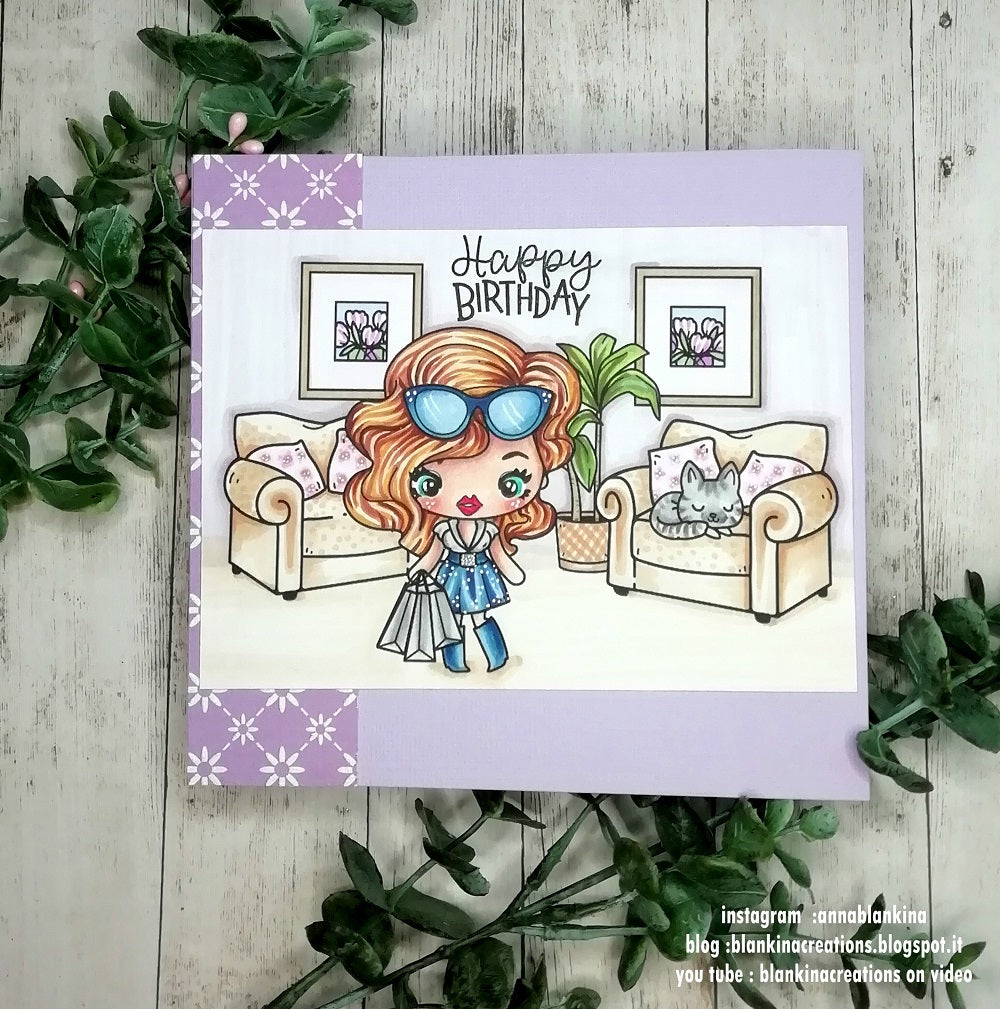 Guest Designer Anna Blankina with Cheeky Shop
Hi all, it is Anna Blankina here. I am so happy to be a GDT at the Farm again! For those who do not know me yet, I live in Italy near Rome with my husband and twin teenagers. But I was born and raised in the Netherlands.
My favorite hobbies are to make cards and to colour with my Copics. I love the Greeting Farm stamps and have bought many through the years. My collection includes rubber stamps, clear stamps and the newer digital stamps!
Today I have created a scene mixing various digital stamp sets. It is great fun to use the digital png files. You can resize, flip and layer to create any kind of scene you like and simply print it with your printer at home.
Cheeky has been shopping for her birthday and has just come home with her bags full of goodies. Perhaps also some lovely TFG stamps??
It has been a sunny day and her sunglasses are put in her hair. Her little skirt is full of sparkles.
Her cat is peacefully sleeping in the couch.
To create this scene I have used :
Cheeky shop ( digital )
cat, chair, photo frame build a bedroom ( digital ) 
plant and flowers in photo frame build a living room ( digital ) 
sentiment from Cheeky birthday ( clear )
I have coloured the scene with my Copics.
skin : E 00, E 11, E 04
lips : RV13, RV 14, RV 29
eyes: BG34, BG 49
cheeks: R 20, R 22
hair : E 18, E 17, YR 24, Y 32, E 41
skirt, glasses, boots : B 91, B 45, B 39
blouse : T 4, N 6
plant : G 82, G 85, YG 23, BG 96, YG 97
home decor : E 30, E 31, E 33, V 04, V 000, B 91,V 91, V 93, E 30
cat : T 1, T 4, T 5
Hugs,
Blankina
instagram : annablankina
you tube : blankinacreations on video