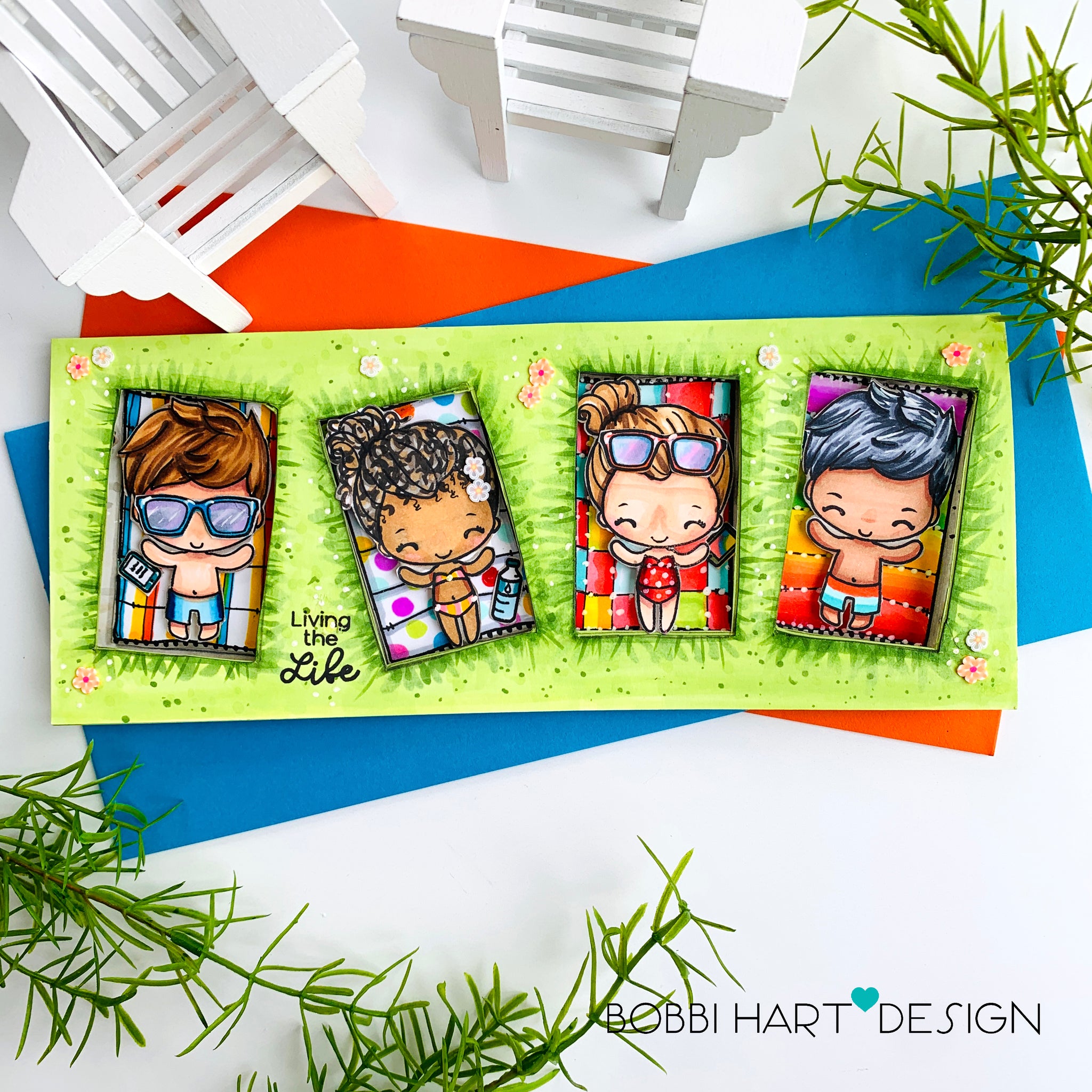 Guest Designer Bobbi Lemanski with a Slimline Summer Card
Hello, Farm friends! It's Bobbi Lemanski here, back with my final card idea as The Greeting Farm May guest designer. This time we are headed to the park and beach for some sun. I'm using The Greeting Farm stamp set, Beach Bums. This set is all that and a bag of chips…literally! You get a boy, a girl, a beach towel, and a lot of accessories to make the cutest scenes (even a bag of chips!)
My slimline summer card offers two scenes. On the outside the beach bums are enjoying the sun in a grassy park, surrounded by flower blossoms, their handy drinking water bottles and electronics. When you open the card, the bums have been transplanted to the sandy beach. Flip flops, mobile phones, inflatables, and some essential snacks enhance their beach experience!
To create this slimline card, measuring 8-1/2" wide by 3-1/2" tall, I stamped two girls, two boys and a bunch of the fun elements for the scene. By coloring each one differently, I was able to create four unique people, each with their own brightly colored, beach towel. After Copic coloring and fussy cutting all the elements, I positioned the four towels on the card front, traced them and cut out along the tracing lines to create four windows. Tip: I like to use a handheld square punch to first punch out an opening in each window area - within the tracing lines - for my scissors to enter to begin a fussy cut.
A grassy card front panel (with the windows cut out) was added to the front of the card base, matching up the window openings. A sandy background was added to the inside panel of the card. All the elements were adhered in place, lining up the towels and beach bums to fit the windows perfectly.
There are so many cute accessories in this set. For example, I added sunglasses to two of the characters. Did you notice the red swimsuit girl has "raccoon eyes" from wearing her sunglasses in the sun? Did you see that the Bikini girl is wearing a few flowers she picked at the park? You can make the swimsuits one or two pieces. Add a rash guard shirt to a boy.  Add your favorite snacks and beverages to personalize the scene. I made the chip bags resemble Lays and Dorito snacks here.
Lastly, I stamped phrases from the set on the front and inside panels to finish this summer card. Slimline cards fit nicely into a business-sized envelope for giving and mailing.
Thanks for visiting. I have enjoyed sharing projects with you this month as the guest designer. Happy Crafting with The Greeting Farm products! Summer on! 😊
Bobbi, website: BobbiHartDesign.com You can also find me on Instagram and Facebook, too!