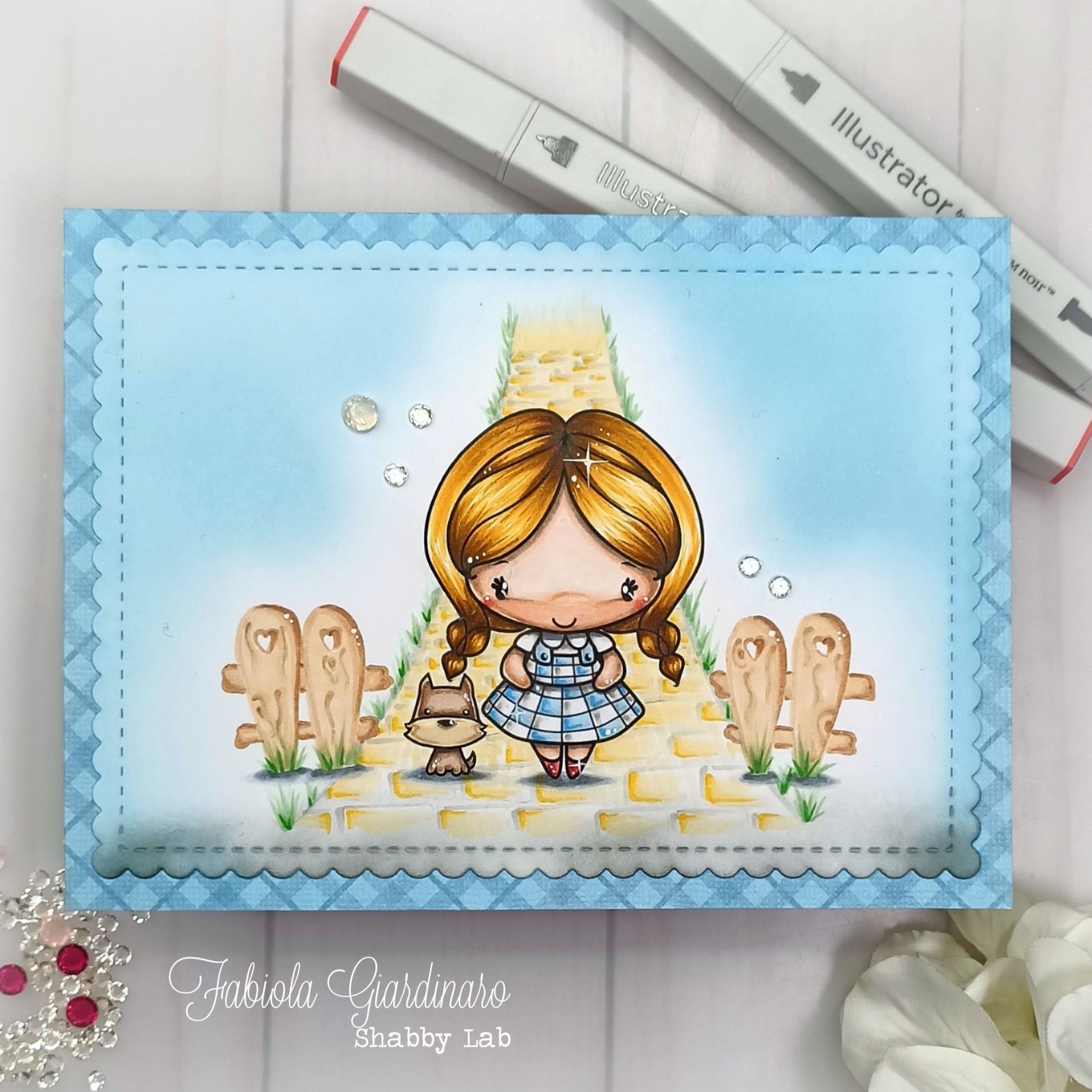 Guest Designer Fabiola with Dorothy Anya
Hi friends, I'm Fabiola Giardinaro. I'm an Italian colorist/cardmaker, and I'm very honored to be here as a Guest Designer for the month of November with my coloring. As a first project, I present to you a card with Dorothy Anya Digi Stamp! I chose to use this stamp right after a hurricane passed in our area, and therefore remembered this wonderful character for this project.
 Of course being a digital stamp, I first printed and then started my coloring with my Illustrator Spectrum Noir markers using these specific colors for Dorothy Anya:
TB3 TB2 TB1 for the dress
TN3 FS8 FS7 for the face
GB9 GB5 BO2 for the hair
DR2 CR7 CR3 for the red shoes
BGRR BGR2 for the blouse
For Totò, I used MB4 MB3 MB1
 With a pencil I then drew the road with yellow bricks and the fence using the GB5 GY3 GY2 shades. Tufts of grass were added using AG3 LG4 LG3. Finally, I added some Tumbled Glass Distress Oxide, and a touch of shine with a white gel pen and some rhinestones.
 I hope I have inspired you!
 A colorful hug,
 Fabiola
My Shabby Lab fb page:
https://www.facebook.com/Shabby-Lab-753610261361485/
  -My Instagram:
https://www.instagram.com/shabbylab_/
  -My blog:
https://shabbylabb.blogspot.it/?m=1
  -My new YouTube channel:
https://www.youtube.com/channel/UCfhxkP4q2AM5MVdVwEVrXNQ