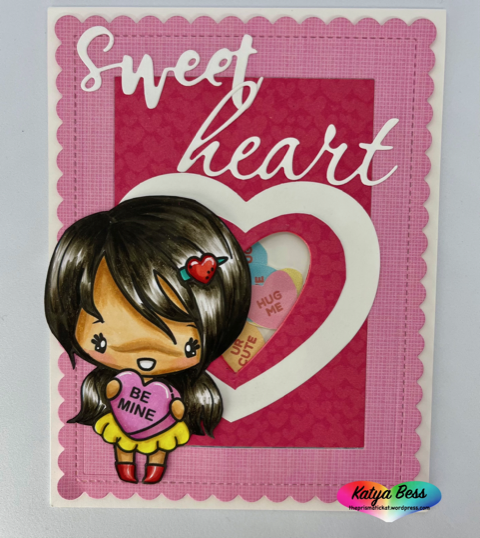 Guest Designer Katya Bess with Be Mine Anya Valentine's Day Card
Hello Everyone!
Katya, here with a card this time. I wanted to recreate the Conversation Heart Candy box like the ones I used to get as a kid on Valentine's Day from my classmates. The papers are by Doodlebug. I ordered some cute candy heart bits- they didn't arrive on time so I used free printable ones available online. If you go the printable route a little fussy cutting will be required unless you have an electronic paper cutter which will make it quick and easy.
The digital stamp I used today is called: Be Mine Anya- isn't she adorable?!
Copic colors used:
Skin: E51, E55, E33, R21
Hair: W9, W7, W5
Dress: Y06, Y15, Y26
Boots and tiny heart: R24, R27, R35
Barrette: BG32, BG18
Be Mine Heart: RV63, RV34, RV66
I hope you liked my conversation hearts box inspired shaker card.
I hope you have a colorful day!
-Katya Bess