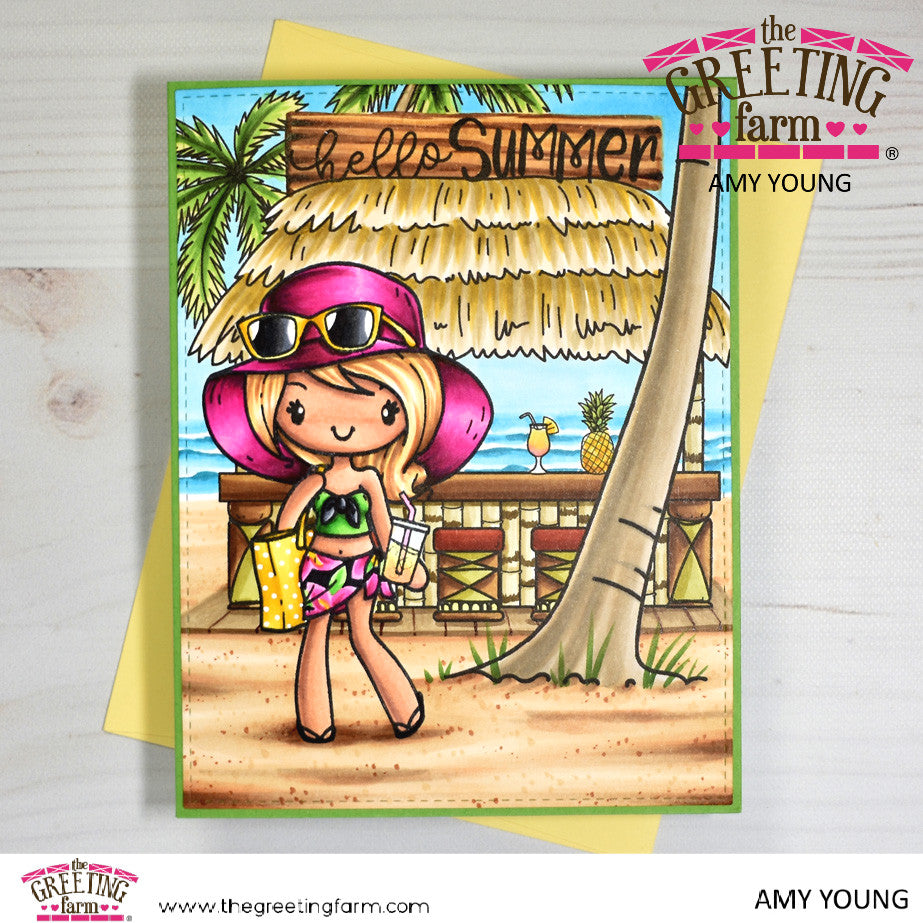 Hello fellow Farmers!
Amy here with the final card in my Miss Anya All Year personal challenge. I began last July, shortly after receiving the kit, and I've had so much fun going back to it month after month, creating scenes that encapsulate each month's defining characteristics.

So here's Miss June, all decked out for a day at the beach. Luckily, with the release of the Beach digi set earlier this month I had everything I needed to build this Miss Anya the perfect summer escape. Because of the drink in her hand I decided to add the tiki bar behind her and framed it with a few palm trees. On top of the bar I created a sign to house the sentiment that I borrowed from the Summer Dress Up digi set. All that was left was to get started coloring.
I began coloring the background first, going with vibrant blues and greens for the sky, sea and palm trees. The sandy beach filled the bottom half of the card and I went with traditional bamboo and straw color for the tiki bar itself. With all those neutral colors going on behind Miss Anya I opted to give her bright pinks and bold tropical prints so that she would really stand out as the star of the show. She definitely looks like she is living the high life as she goes to find the perfect spot to lounge this beautiful summer day away.  ;)

Stay crafty my friends! 
Oh! And as a little bonus, here's a collage I put together showing all twelve cards, from January through December, using the Miss Anya All Year Kit (which is available in the store right now)!