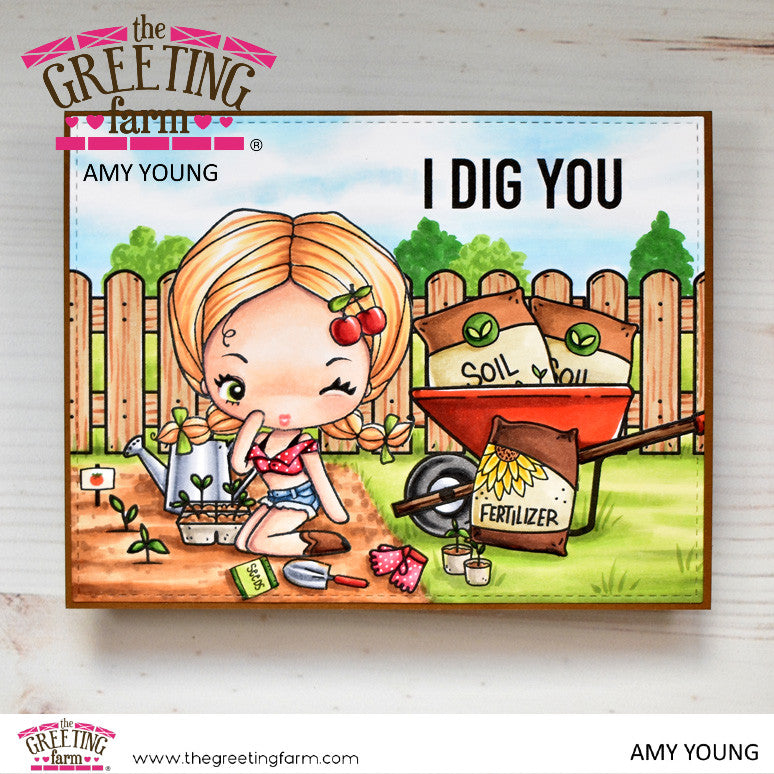 Hello fellow Farmers! Amy here with a card that mixes the brand new Gardening digital background builder stamps with the classic Cheeky Howdy from way back. I so enjoy the opportunity these background sets give me to go back in my stamp stash, whether it is digital or traditional, and breath new life into some oldies but goodies. I always felt like Cheeky Howdy was the type of girl who wasn't afraid to get her hands dirty and since some of my favorite accessory images included in the Gardening set are the cute bags of fertilizer and soil, I figured she could be prepping her garden for spring planting. She has everything she needs to get all her little starts planted, from her watering can and trowel to her gardening gloves and wheelbarrow full of nutrient rich earth.    

Howdy herself is looking all sorts of cute in her cut-off jeans and halter top. My guess is that she is trying to get a bit of a tan while out working in her garden... talk about multi-tasking. In the background I used three panels of the fencing that is included in the Gardening set to span the length of the card. The sentiment comes in the new Gardeners digi set and works well with that cheeky wink she is giving.

If you are interested in seeing how this scene was colored up I actually did a Live coloring of it yesterday which you can see here.  :)
Stay crafty my friends!