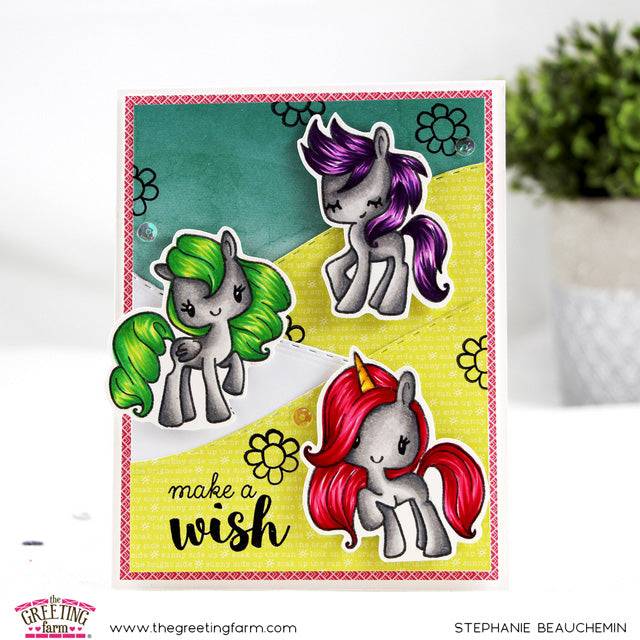 Hey guys!
Stephanie with you today to share a fun and very colorful project for The Greeting Farm using both the Magical Friends and A Lil' Magic stamp sets. Have you looked at the new website, yet? SOOOOOO fun, I swear! I simply adore the new subcategories under each category, I mean, HELLO, fantasy section ;-)!
So, I have to admit something about today's card. I did it because I wanted it to be different, totally out of my comfort zone, and it worked. I'm still not sure about it and I learned to let it go, that it's okay to try something else! What I mean is, that I stamped several unicorns (loveliiiiies) onto my favourite colouring cardstock and began colouring them with Copic markers without matching them first with papers. I know, I know, many of you all do it this way, but I'm a matchy-matchy kinda gal! I chose colours that brought me fun and added LOTS of spica pen glitter, for them to shine like a diamond. I fussy cut them with a pair of sharp scissors, then added them to a few layers of pattern papers onto a white regular 4¼"x5½" cardbase. 
Oh, but something was missing! So I decided to detach my unicorns from the cardbase in order to stamp several flowers and a sentiment directly onto the pattern papers, for extra fun, then popped the silhouettes with foam dots. And then I left it as is, with a few sequins. I'm letting go, people! Next step would be to actually mail it, eheh.
So make sure to grab a set (or three) in the brand new The Greeting Farm store and get out of your comfort zone soon enough. Until then, xxx