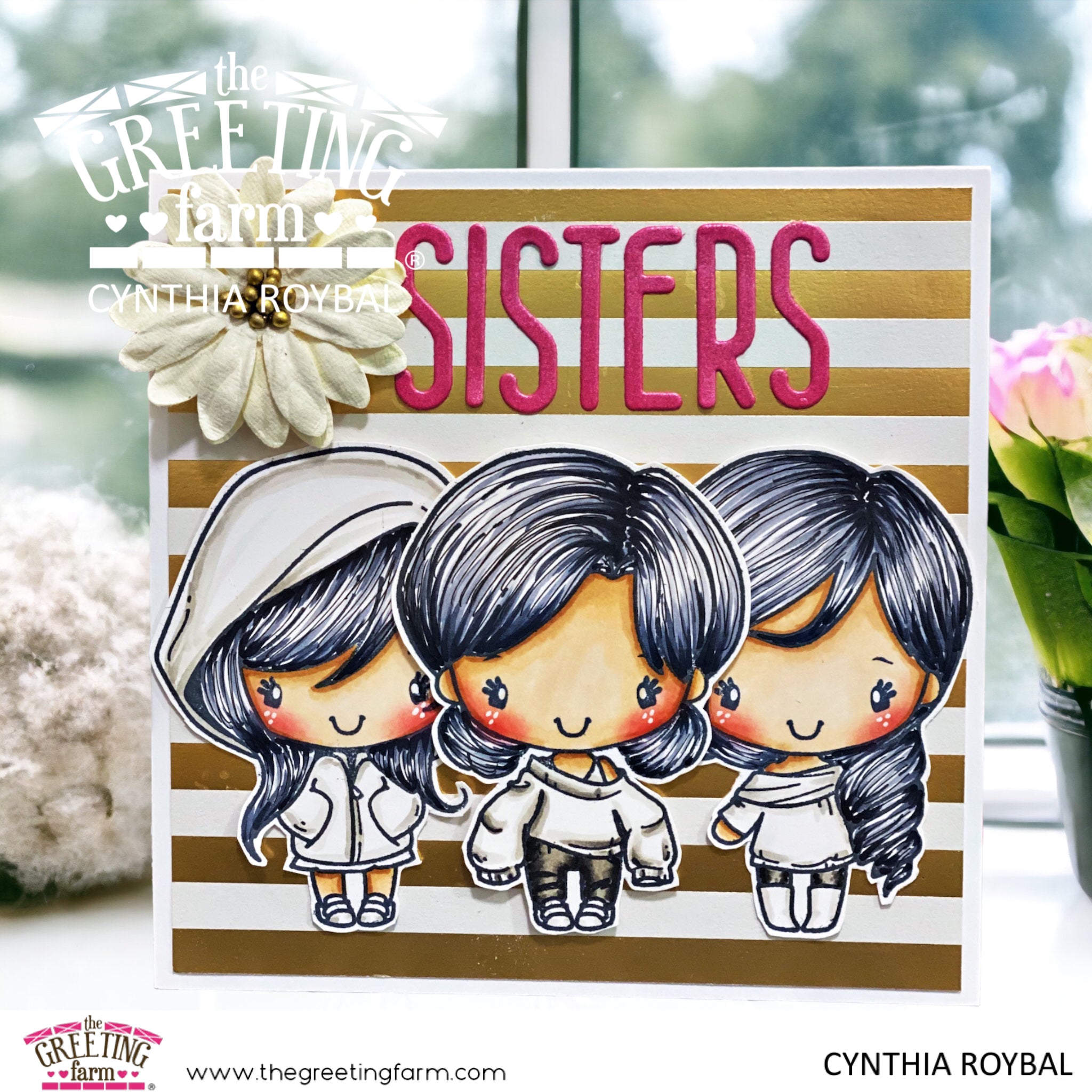 Hello, fellow crafters and card enthusiasts! Cynthia here, excited to share with you a special project that holds a lot of sentimental value for me. It's that time of the year again – Sisterversary! To commemorate this occasion, I decided to create two unique handmade cards for my two beloved sisters, using adorable stamps from The Greeting Farm. Let's dive into the creative process and see how Copic Markers brought life to these heartfelt cards.
I colored 3 images twice to create 2 cards.  They're all from the Anya Combo Kit and they're all attending a White Party with their white outfits. My sisters and I all have black hair so I colored them all with Cool Greys. I added some red chalk for the cheeks and added some white highlights with a white gel pen. I fussy cut all of the images and affixed the trio onto gold patterned paper.
I die cut "Sisters" with an alphabet set in pink and added a 3D flower to add some interest to the card. The card base is cut to 5.5x5.5" with 120 pound Accent cardstock.

Creating handmade cards using stamps from The Greeting Farm and coloring them up with Copic Markers has been a Sisterversary tradition every summer. These cards hold so much meaning for me as they represent the love, laughter, and memories shared with my two incredible sisters. It's the perfect way to celebrate our yearly Sisterversary, and I look forward to seeing the joy on their faces when they receive these personalized tokens of affection. I hope this blog post has inspired you to create your own heartfelt cards for your loved ones.
Happy crafting!