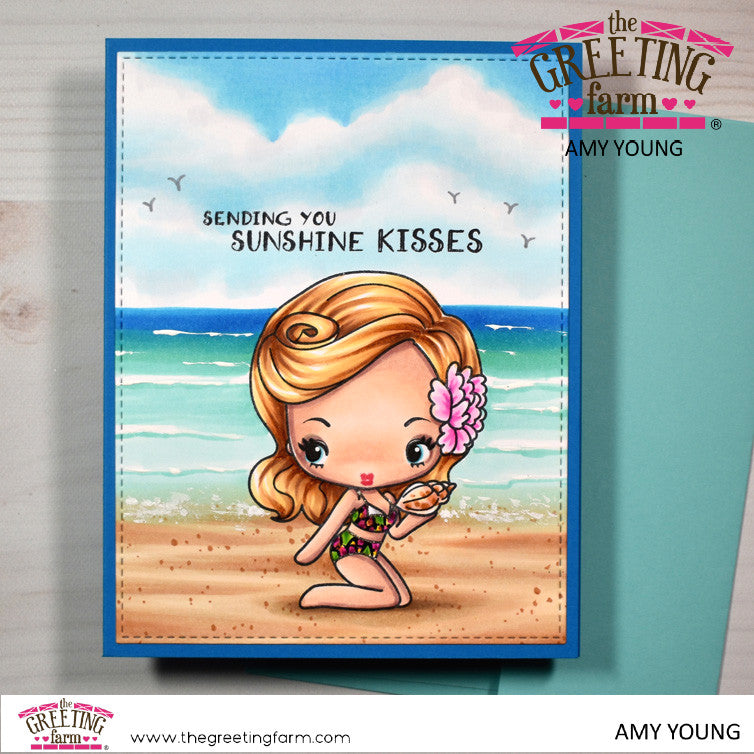 Hello fellow Farmers!
Amy here and so far it has been a hot, hot summer in my neck of the woods. When the temps get unbearable it's easy to find yourself dreaming of glistening waves and cool ocean breezes. So when I sat down to create a card for today I knew just the gal that I wanted to color up... the beach babe Cheeky from the awesome, though retired, 10 Years Kit. You would have to twist my arm to pick a favorite TGF kit but if I had to choose the 10 Years Kit would definitely be in the top three. I love, love, love the variety of characters included in it, especially ones like the Wild Sprouts, Creepers and Big Time Anyas that we have yet to see jump over to clear stamps. Luckily for Cheeky fans, new Cheekies have been showing up in clear sets but there is something about the finer lines in the red rubber that I think suit these beauties perfectly.   
This fabulous beach babe has that classic pin-up pose and retro glam hair-do that first drew me to the Cheeky line of stamps. Because I use a Misti platform to stamp, I like to ink up just the lips first in Memento Angel Pink ink, then I ink the entire image in Memento Tuxedo Black but wipe the black ink off of the lips before stamping again. This simple trick allows me to then add any color to her pouty pink lips so they always coordinate with whatever stylish outfit Cheeky happens to be wearing. For beach babe here I just grabbed the same pink used in the print on her bikini for her matching lipstick.    

For the background I decided to have her pose on an ocean beach with the gentle waves stretching out behind her. Big, billowing clouds fill the sky and simple little "V" marks become gulls flying in the distance. So you get a nice juxtaposition of cool colors up top and warm tones down below on beach babe and the sand. This strikes a nice balance for a pretty clean and simple scene.

With this card done I've only got three characters left from the 10 Years Kit to get on cards. Here's hoping that we don't have to wait for a 20 Year before we get another amazing mixed character set like this again. ;)
Stay crafty my friends!