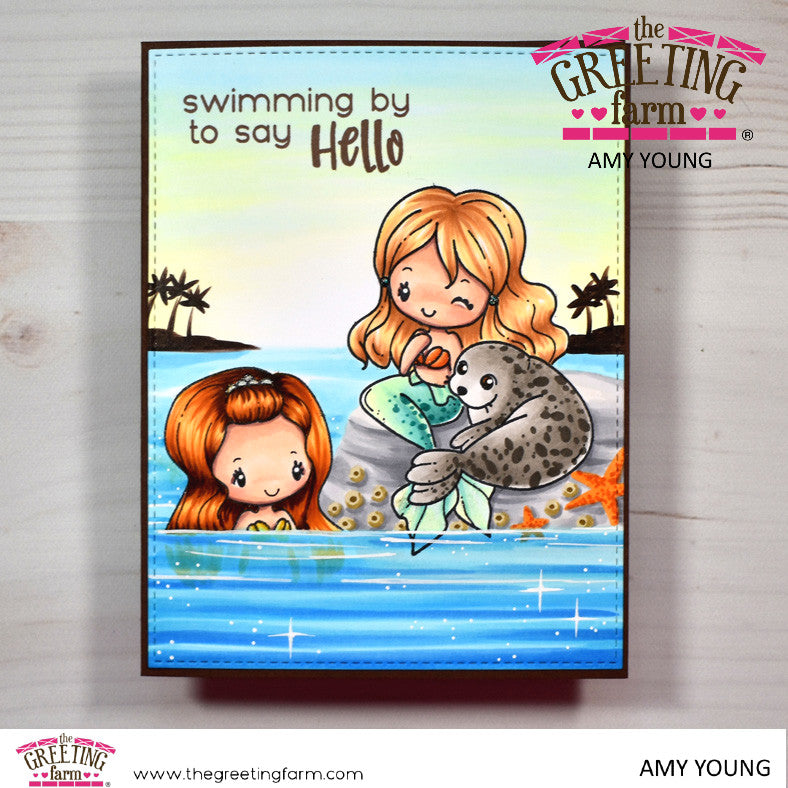 Hello fellow Farmers! Amy here and the recent Farmer's Market inspired me to ink up some of the sweet mermaids from the Mermaids Galore kit just in time for the start of MerMay. I didn't get much of a chance to play with these cuties when they released last year so I've really been looking forward to making all sorts of scenes with the various mermaids and sea critters that are included in this large kit. For my card today I started by inking only the top half of one mermaid so that it looks like she is popping out of the water. To help really sell that idea I also added lighter tones of her hair and skin beneath the surface, letting them fade out to the blue of the water.

On the other side of the card I stamped the adorable harbor seal and masked him off before stamping one of the seated mermaids just behind him. This allowed me to color both of them onto an outcrop of rock. The spotting on the harbor seal's coat also inspired the patterning that I added to the mermaid's tail.

The rest of the background was kept fairly simple, I used my lightest yellow and blue Copic markers for the sky to create a bright sunrise and then added freehand spits of land silhouetted against it, complete with palm trees. The sentiment is also included in the Mermaids Galore kit and ties this fun scene together perfectly!  :)
Thanks for swimming by today and stay crafty my friends!