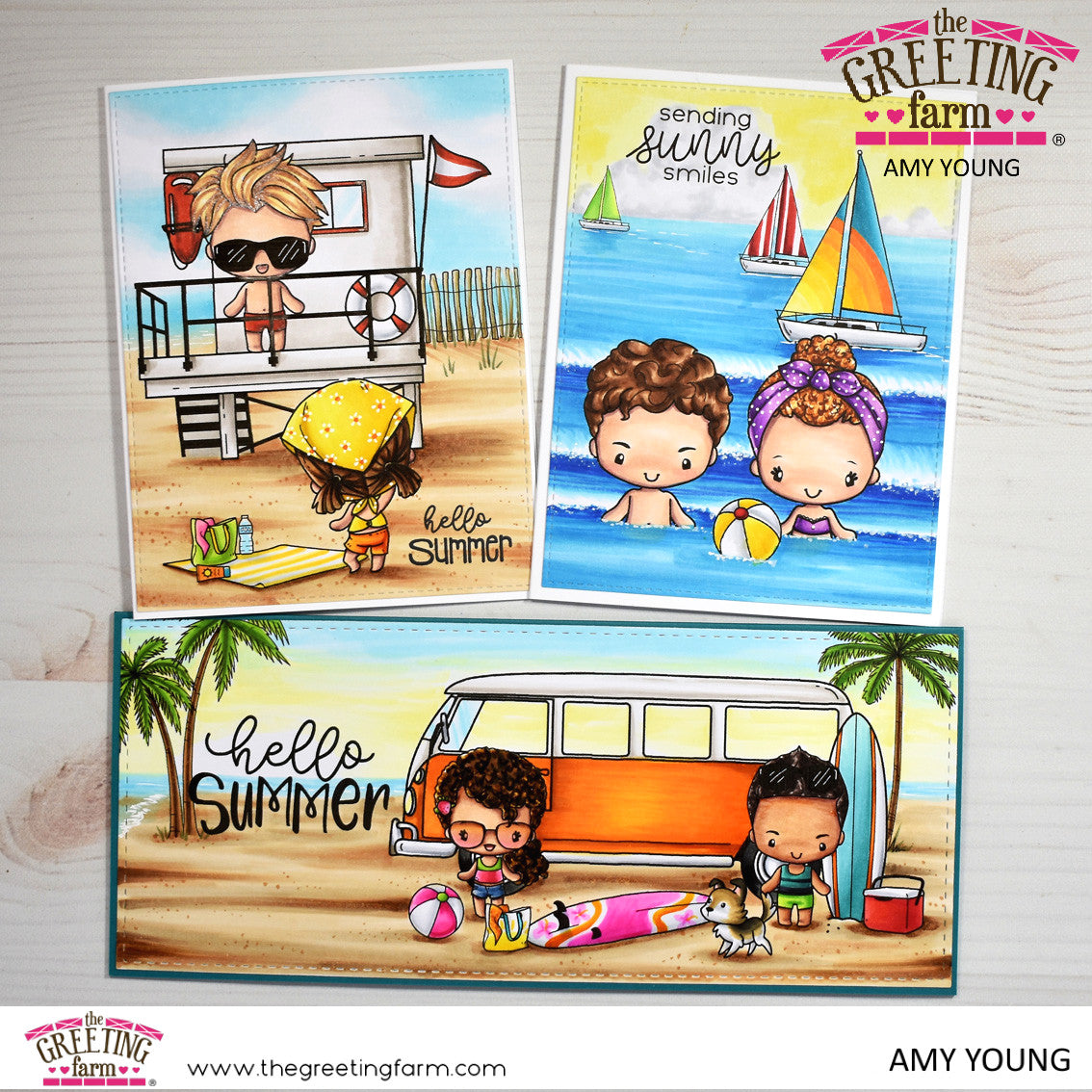 Hello fellow Farmers!
Amy here with the first sneak peeks of the newest digital stamp set hitting the store today. This fabulous Beach set includes so many amazing scene builder images, making it easy to transform a wide variety of the TGF characters already in your collection into beach going cuties. I couldn't stop mixing and matching the various Beach builder images with digital Anyas and Ians so that I could really play with sizing and perspective on these first three cards that I created.

My first card is an A2 size where I turned this Ian from the Birthday Boys digi set into a hunky lifeguard with the help of some cool shades from the Baldy Ian set. He is up in his guard tower while a cute beach babe, from the Backs 3 set, gives him a flirty wave. The beach fence, towel and tote bag are all part of the new Beach set while the sunblock and water bottle come in the Poolside digi set. The sentiment is from the retired Mega Mini Summer clear set.

My second card finds Dress Up Winter Ian shedding his cold weather clothes for a swim in the sea and Chore Day Anya is joining him thanks to a body swap with Dress Up Bedtime Anya. I used the sailboat from the new Beach set in three different sizes to play with perspective as the sailing regatta passes by in the distance. The beach ball is another digi from the Poolside set and the sentiment comes in the Dress Up Summer set.    

My third card is a long slimline scene built around the awesome VW bus, which is probably one of my most favorite new images in this Beach set. Off in the distance I added two of the three palm trees that you get to really help set the scene. Both surf boards, the cooler and the tote bag are all new and start telling the story of our two cute surfer's day at the beach. Anya and her pup are both from the Dress Up Summer set while her glasses were borrowed from Baldy Ian. Another one of the Birthday Boys is having a blast at the beach too and of course I couldn't resist adding that Poolside beach ball into another scene. ;)

Be sure to check back later today for even more Beach background digi fun with the rest of the team. There is so much more goodness included in this set, like a tiki bar... you're gonna love it!  :)