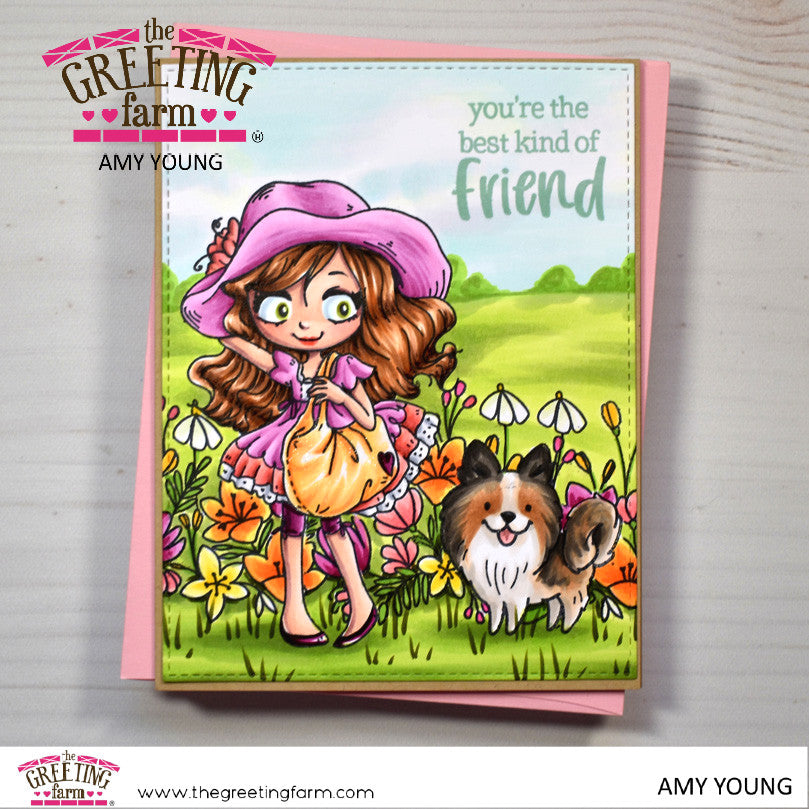 Hello, hello! Amy here today with a card mixing and matching some of the older stamps in my collection. I've been itchin' to color up one of the larger TFG images for a while now and this big eyed Dollie from the 10 Year Kit has been sitting on my desk just waiting for a card of her own. I've always loved how expressive the Dollies are and how easy it is to create fun and dynamic scenes with them.

Since she is looking in such a definite direction I needed to find something or someone for her to be looking at. So I went through my stamps until I stumbled across the Miss Anya Samoyed set. I love that big fluffy dog and knew right away that with a bit of altering, by wiping away ink from Anya's arm and leg before stamping, I could get him out of Anya's arms and on his own. Any gaps in the line work I simply fill in with a black pen. When it came time to color rather than keep him a Samoyed I instead chose to color this cutie into a Collie.
To add some interest and color to my background I grabbed the Be Kind set and stamped the large patch of flowers twice after I had masked off Dollie and her collie. These types of stamps are such a great way to quickly let the viewer know what type of environment the characters call home. In this case it is a lovely spring meadow that these two besties are strolling through. I also used one of the great sentiments that comes in the Be Kind set to finish off this sweet card.
Well I hope this card inspires you to show the older stamps in your stash a bit of love or even add a few of the 'oldies but goodies' if you don't have them already because they really do take on new life when you start mixing and matching.
Stay crafty my friends!