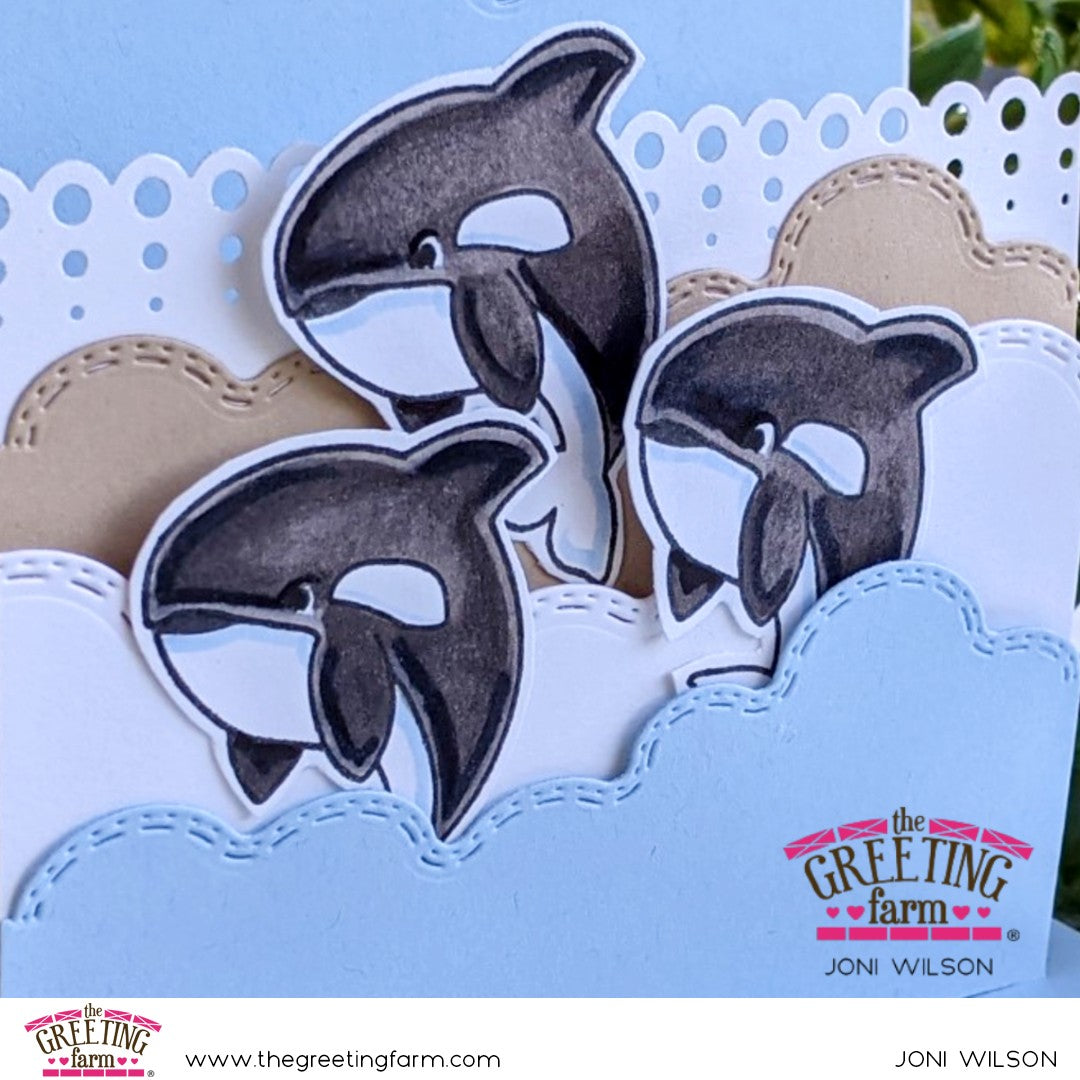 Tip Me Tuesday: 3D with Mermaid Fun
Happy Tuesday, friends! I hope your week is off to a great start and that it's only going to get better. It's time for Tip Me Tuesday, a fun little feature where I share color combos and techniques that I've made with my favorite TGF images. April's release was nothing short of amazing as we transition into warmer months and easier (hopefully!) days ahead. For my card I created a fun little ocean scape with the Orcas from the Mermaid Fun set:
First off, I used the easy peasy Copic color combo of 100, W7, W5, and B01 for the light blue. Nothing special, just stamp multiple images until I got the amount I wanted to create this scene:
To create the card, I used a 5x5 cardstock then cut a slit manually after measuring with a ruler. Sometimes it's easier to go the old school route with scissors, instead of trying to precisely line up the cuts. ;)
This is what it looked like before the images were added:

(Note: if you have just a single or smaller image, you can adjust the cuts to scale and not have them as wide or tall. )
I used a cloud die cut to create the clouds on the outside and paired it with a sentiment from the Take A Hike set:
And then inside also for the waves, in different colors for depth:

Finally attaching them all together, I made this little 3D scape of my Orcas frolicking in the ocean (with a special guest appearance from Furmaid's starfish and Seas the Day sentiment):

What a perfect set to celebrate summer!
You can find Mermaid Fun and Furmaid right here at the shop. If you haven't joined our Facebook Fan Page, be sure to come over and be part of the community! There are so many Farm friends ready to share their creations and all things related to our love for TGF.
Have a wonderful day, happy creating to you!
xoxoxox
Joni