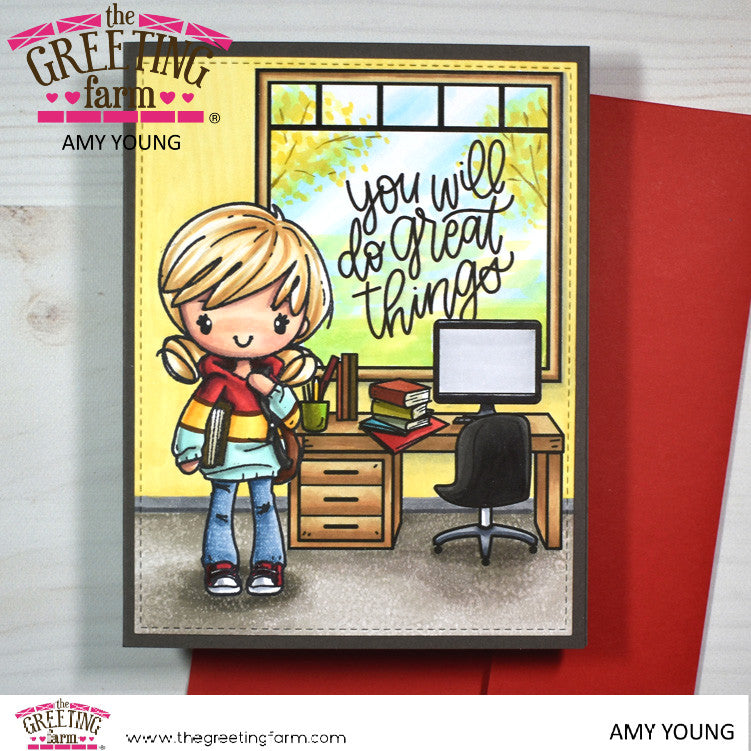 Hello fellow Farmers!
Amy here and if you hadn't noticed, I've kinda begun an unofficial challenge to myself to create a card each month using the Miss Anya All Year kit. I started back in July just after receiving the kit and now here we are a week into September so of course I had to ink up the Miss Anya with her backpack and books for a back to school card. Half the fun also comes with building the perfect digital scene to help encapsulate each month's special story.
For this scene I figured we have caught Miss Anya in her bedroom before heading off to school in the morning. For the large window I actually used one of the buildings from the Store Fronts digi set and cropped in close until all I had was the window. This is a great way to make that digi set stretch even further. I sized the Great Things sentiment to fit comfortably in the window then proceeded to put her study desk together using images from the Desktop and Build-a-Living Room sets.

For Miss Anya's comfy, casual outfit I gave her a pair of jeans, adding texture using a swatch of actual denim wet down with some Copic colorless blender solution. The same technique was done on the carpet but I used a scrap of old sock rather than denim for a slightly different texture. Because this is a school card I was drawn to the traditional primary color combo of red, yellow and blue for her sweatshirt but with a twist... these hues are softer and the blue is more of a blue green. She still looks ready to take on her academic day if you ask me.  :) 

Well, thanks for stopping by and I hope you enjoy everything September has to offer!