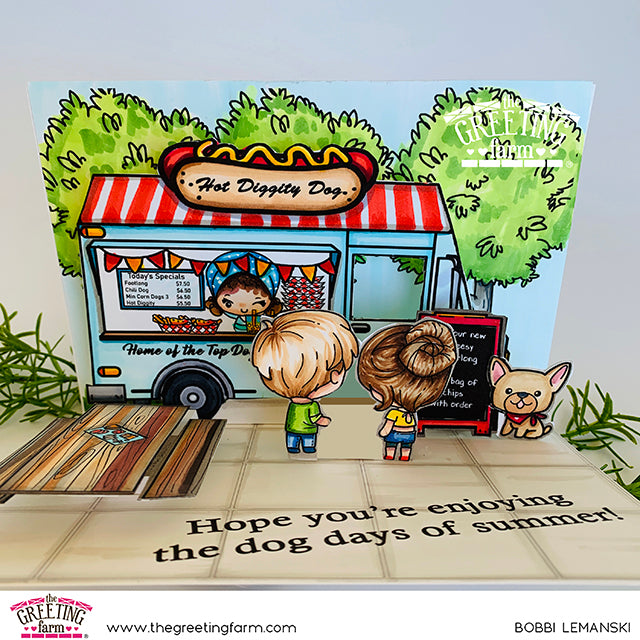 Dog Days of Summer Pop-up Card
Hi there, friends! It's Bobbi Lemanski here with a fun pop-up card to share with you before summer ends! This card features several of the fun The Greeting Farm digital sets including the
Food Truck digi
set. I've been wanting to create a card with these adorable images since this set came out earlier this year. I've included a quick video below to show the card in action, too. 
On the outside of this 5" X 7" interactive card, I used the
"Watcha doin?" digital phrase
in the middle and added all the fun
food truck
food items around it. I added some black and white pattern paper on the sides of the greeting card.
When the card is opened, a food truck is revealed. It's surrounded by tall trees in the background and a patio area with a picnic table to the front. There's also a standing chalkboard easel, a dog (must have a dog at a hot dog stand :)) and customers, too! 
. 
The "Hot Diggity Dog food truck includes a cute menu board on the back wall, a bright banner to attract customers as well as a huge hot dog sign on the top. There's food baskets and fountain beverages ready for pick up on the counter. Of course, we also have the chef on board, too.:)  This food truck's claim to fame is its "Top Dog Footlong" specialty food item. I used my laptop to create the custom text on the menu boards and the truck signage/lettering. Most of the images I used are from the
Food Truck digi set
. The chef is from the
Poolside Peeps digi set
. 
The customers are from the digi set,
Movie Night
and the cute dog by the free-standing menu board is from the 
Hello From Home
digi set. For the chalkboard sign, I created a black box inside the easel stand and added the custom print in white using a font that reminded me of chalk print. This is so easy to do when using digi sets.. 
The patio and the picnic table were created using images from the
Poolside digi set
. I added the custom phrase, "Hope you're enjoying the dog days of summer" phrase using my laptop. 
. 
I've included a quick video here to show how the card works. When the card opens up to 90 degrees, the backdrop pulls the items up so that they are standing tall. The food truck pop-up stands 1/2" out from the background, the easel stand is 1" and the customers are 1" from the food truck (for a total of 1-1/2" from the tree backdrop.) To create the pop-up stands, I simply create a "box" using 80lb cardstock and attach them to the "background/backdrop" and the "floor" of the scene. The picnic table pops up from the floor, ready for the customers to use. :)
. 
I hope you are enjoying these last hot days of summer. Today, it's 90 degrees in Wisconsin where my family lives. It's a good time to enjoy a hot dog and a cool beverage outside before fall and winter come! Happy last days of summer!    
Want to see more ideas and inspiration from me? Subscribe to my blog, 
BobbiHartDesign.com
. I'll send you updates on new posts! You can also find me on Instagram as
 @BobbiHartDesign
 and on Facebook as 
BobbiHartDesign
. Bobbi Hartmann Lemanski, Bobbi Hart♥ Design, Adding h♥art into every design