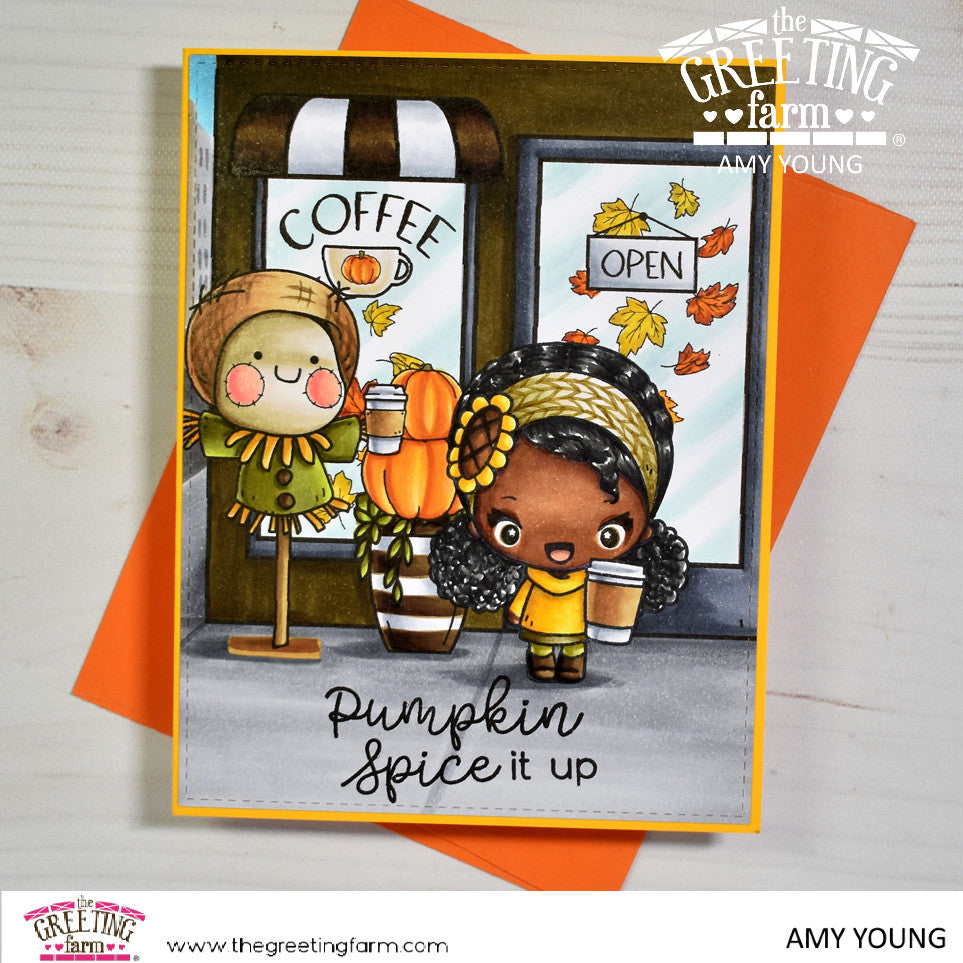 Hello fellow Farmers!
Amy here, and I figured it was the perfect time of year to add some pumpkin spice to the super cute Coffee Bean stamp kit. I've been saving this curly haired coffee lover, with her sweater and fun sunflower headband, for a fall inspired coffee card. Of course I also went to my TGF digi collection for all of the seasonal background elements that I needed to make this scene happen.
I began by stamping the cute Bean and masking her off, then I went to my computer and started to put together a background scene of a coffee shop all decorated up for pumpkin spice season. I started with one of the shops in the Storefronts set enlarged to fill the entire card front. I added the open sign to the door, the coffee icon to the window and a large planter beside the door. I then went to the Hello Fall digi set and stacked some pumpkins in the planter, I also shrunk one super small to add to the coffee cup window decal. Falling leaves became more window decals and the adorable scarecrow got his own to-go cup thanks to the Bakery/Cafe set. Once the background was set, I ran the little Coffee Bean through the printer so that when I removed the mask she was standing in front of the door.  

Now it was time to color and I kept with a very fall inspired color palette throughout the scene. Warm yellows from the leaves and sunflower, dark coffee browns, pumpkin orange and deep olive green hues all come together to bring to mind a crisp fall morning with a cup full of joe warm in your hand. The perfect sentiment was borrowed from the Pumpkin Spice Simon Says Stamp exclusive set from a few years ago and I altered it just a bit to make it two lines instead of three. The end result is a fun, fall card perfect for that pumpkin spice addict in your life.  ;)

Stay crafty my friends!